Edmond Truley (ET) Logsdon, Jr.

Mr. Edmond Truley (ET) Logsdon, Jr., 62, of Orient, Ohio passed away Wednesday, September 21, 2005 at Riverside Methodist Hospital in Columbus, Ohio. The former Cave City resident was the son of the late Edmond T. Logsdon, Sr. and Elizabeth Logsdon Flemming of Cave City, who survives him.
He was a member of the Elks Lodge in Cincinnati, the Cave City Baptist Church and attended the Harrisburg United Methodist Church. ET enjoyed riding motorcycles, loved boating and fishing, and especially loved going to Florida to be around the water.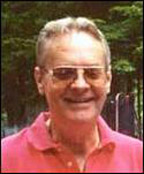 In addition to his mother he is survived by his loving wife Ida Sue Robbins Logsdon of Orient, OH; a daughter, Lise' Michelle Logsdon and friend Jo Ellen Woods; a son William Calvin Logsdon; grandchildren, Gage Matthew Logsdon and Jaylyn Elizabeth Hicks, all of Ohio. He is also survived by his sister Karen Logsdon Phillips and her husband Wayne of Danville, KY; a brother William Luther Logsdon, Sr. and his wife Mary of Largo, FL; nieces, Angela Elizabeth Hunter and Mary Elizabeth Shramm; nephews, William Luther Logsdon, Jr., Nathan Ryan Lindsey and Justin Phillips; great nieces, Casselle Shramm and Ashiah Lindsey; great nephews Cameron, Christian and David Logsdon, Samuel Hunter, IV, Christian and Ben Lindsey and a host of other relatives and friends.
In addition to his father, he was preceded in death by his paternal grandparents, Alva and Alva Mae Hunt Logsdon and his maternal grandparents, Tom and Lissie Wheeler.
Funeral services for E T Logsdon, Jr. will be at 1 PM Tuesday, September 27th at the Bob Hunt Funeral Chapel in Cave City with burial in the Cave City Cemetery. Visitation at the Bob Hunt Funeral Chapel will be on Monday, September 26th from 3 to 8 PM and after 9 AM Tuesday until time of services. Visitation at the Newcomer Funeral Home in Grove City, Ohio will be from 3 to 8 PM Saturday, September 24th.
Memorial contributions may be made to the American Cancer Society. Messages of condolence may be left on line at www.newcomerfamily.com.