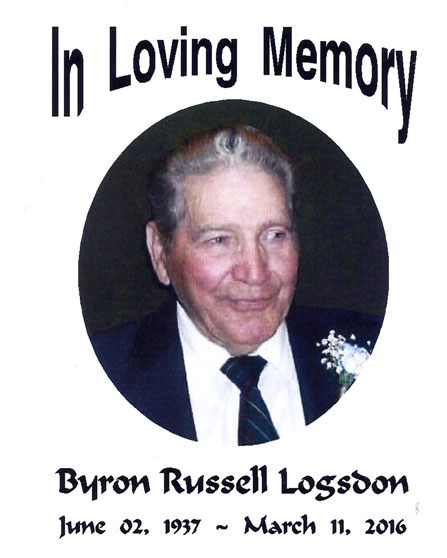 Byron Russell Logsdon
Byron Russell Logsdon, 78, Munfordville, passed away Friday, March 11, 2016 at his home. He was born June 2nd, 1937 in Hardyville to the late Obra and Marguerite Gaddie Logsdon. The US Army veteran was a private contractor and excavator. He was a member of the Munfordville Presbyterian Church and a past master of the Green River Masonic Lodge 88.
Survivors include his caregiver and special friend, Shirley Dye; a son, Michael Logsdon and his wife Cheryl, Munfordville; a brother, Mickey Logsdon and wife Cheryl, Glasgow; two sisters, Carol Defries and husband Roger, Terra Haute, IN, Diana Grace and husband Jim, Florence, KY; grandchildren, Ashley Nicole Logsdon, Elizabeth Ann Strickland and husband Cameron, all of Munfordville; great-grandchildren, Jocelyn Michelle Logsdon, Maya Grace Logsdon, Nolal Russell Strickland; and several nieces and nephews.
In addition to his parents he was preceded in death by a son, Jack Logsdon and a grandson, Justin Michael Logsdon.
Funeral services with Philip Trent officiating will be at Bob Hunt Funeral Chapel, Cave City at 2 PM Sunday, March 13 with burial and military rites by DAV Chapter 20 in Munfordville Municipal Cemetery. Visitation at the funeral home will be after 2 PM Saturday. There will be a potluck dinner after the graveside service at the Hart Co. Fairground Community Building.