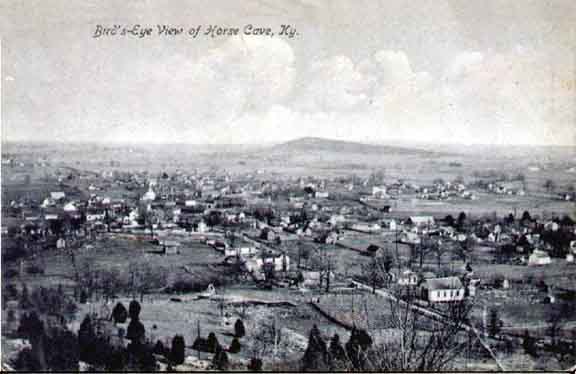 Photo provided by Shirley Woodcock Jackson in memory of her parents, Henry Frasier and Lacy Lee Turner Woodcock .
Established about 1850 by Major Albert Anderson, Horse Cave's growth spurted after the arrival of the L & N Railroad.
The name was changed to Caverna (Spanish for cave) from 1868-1879 at which time it was renamed Horse Cave.
Thanks to the building of a hydroelectric system in the 1890s, Horse Cave was the Kentucky's to have electric lights,
This photo acquired from a postcard mailed to a Mrs. Maud Wilson, Green Co., KY in 1910. Postcard postage at this time was one cent.

Wayne Hatcher note: The Knob in the horizon is known as Pine Knob. Today, it is located behind the Jr. Food Market east of Horse Cave overlooking Hwy. 218. There are several nice homes built on it and some residents have an address known as Wendy Hill. The photograph in question was taken from what is known as Pierce Knob, near a smaller incline known as Barlow Hill. You can see Main Street running in the middle of the picture and it is looking East over Horse Cave. If you look close in the left center of the picture, you will see a white building. This was the Christian Church site. Present day 31W runs in the middle of the photo left to right.