ALEX 'NUB' POLSTON
Rev. Alex "Nub" Polston, 82, Brandenburg, died April 15, 2006, at Medco Center, Brandenburg. He was born Jan. 4, 1924, the son of Clayburn Lee and Lena Belle Epperson Polston.
He was pastor of the Church of God Mountain Assembly for 64 years, a Purple Heart veteran of World War II, and a retired supervisor for LG&E.
Rev. Polston is survived by three children, Ruth Ann (Roy) Lindsey, Stephens, Ga., Dorothy (Ron) Herring, Vine Grove, and Richard Polston, Glasgow; three sisters, Dorothy Wright, Muldraugh, Lydia Wathen, McDaniels, and Clara Little, Union Star; two brothers, Joe Polston, Fairflax, Ala., and Billy Polston, Louisville; seven grandchildren; and two great-grandchildren.
Funeral services will be held April 20 at noon from the chapel of Hager Funeral Home with Rev. Elvis Graham officiating. Burial will be in Cap Anderson Cemetery. Friends may call at the funeral home April 19 after 1 p.m.
Source: Meade County Messenger dated 19 April 2006
<![if !vml]>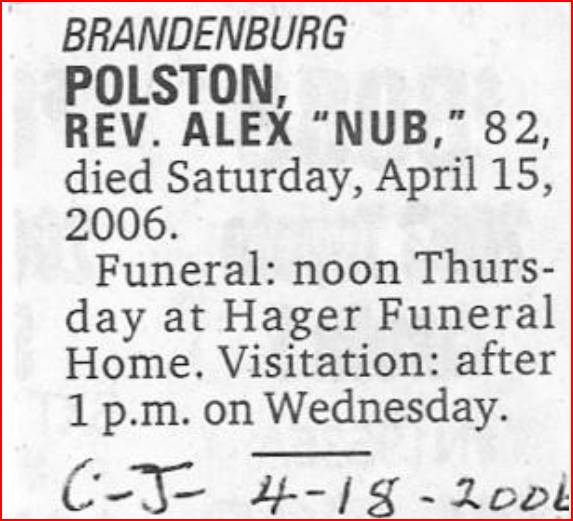 <![endif]>