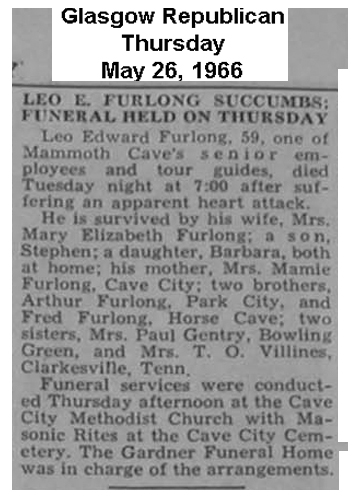 Glasgow Republican May 26, 1966
Leo Edward Furlong, 59, one of Mammoth Cave's senior employees and tour guides, died Tuesday night at 7:00 after suffering an apparent heart attack.

He is survived by his wife, Mrs. Mary Elizabeth Furlong; a son, Stephen; a daughter, Barbara, both at home; his mother, mrs Mamie Furlong, Cave City; two brothers, Arthur Furlong, Park City, and Fred Furlong, Horse Cave; two sisters, Mrs. Paul Gentry, Bowling Green, and Mrs. T. O. Villines, Clarkesville, Tenn.

Funeral services were conducted Thursday afternoon at the Cave Cithy Methodist Church with Masonic Rites at the Cave City Cemetery. The Gardner Funeral Home was in charge of arrangements.