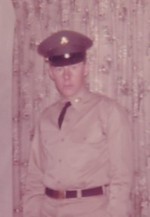 Max Uhl Bunnell age 70 of Bowling Green died Wednesday at his home.
Max was a retired certified public accountant, having worked in TN, KY and Ohio. He was the son of the Henry & Ruby Johnson Bunnell, who preceded him in death.
He was a member of the Munfordville Baptist Church and he was also a member of the VFW Post and the Moose Lodge in Bowling Green. He was an avid card player and car enthusiast.
After his graduation from Munfordville High School, he attended Western Kentucky University until he was drafted by the U.S. Army where he served in the 101st Airborne Division as a certified parachutest. After his service, he returned to WKU shere he graduated Magna Cum Laude.

Max is survived by
brothers Jack Bunnell, James Henry Bunnell & wife Leuna, Jerry Bunnell & wife Lola all of Munfordville, Charles Rhea Bunnell of Glasgow
Sister-Mary K. Bunnell of Munfordville
Nieces & nephews-Kerry Bunnell & wife Sharon, Kevin Bunnell, Karole Kidd & hus. Jeff, Timmy Bunnell, Anthony Bunnell & wife Melanie, Mark Bunnell & wife Angela, Lisa Willian & hus. Timmy, Shannon pickett & hus. Kevin and Jennifer Bunnell. 1 great-grand-niece. In addition to his parents he was preceded in death by 3 brothers Kenneth, Teddy & Tony Bunnell & 1 sister Betty Jo Bunnell.

Funeral services will be 11am Saturday in the chapel of Sego Funeral Home with burial in the Goodman Cemetery with military honors.