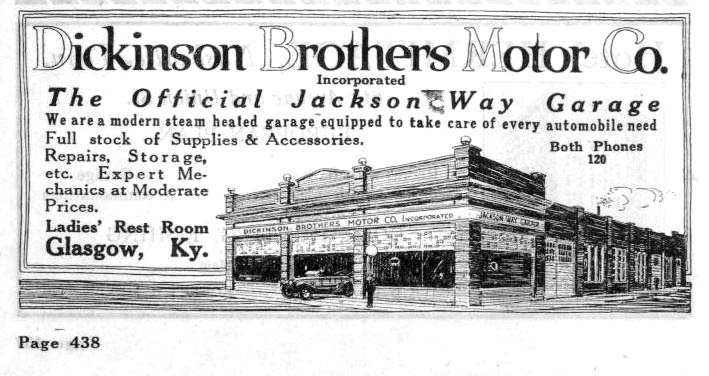 Advertisement Courtesy of Kathy Dickinson Glass
Brents was the head of Dickinson Brothers, and the principal Salesman. Bartlett Graves was the buyer and bookkeeper for the firm, and looked after collections, which kept him busy from morning till night. (6)
Dickinson Brothers also bought the brickyard, and 30 acres. According to Day the brickyard did well for two years, selling 3,000,000 bricks the first year, but Glasgow did not have enough business to keep the plant going full time and Dickinson Brothers shut it down after two years.
Dickinson Brothers also took over the Electric Plant for $30,000, and operated it until Kentucky Utilities came along and they sold it for $60,000.
Dickinson Brothers also owned the Water Company. They borrowed $40,000 and built a pumping site on Beaver Creek and put in new water mains. Several years later, they sold the Water Company to the American Waterworks for $125,000. In a few years, the city of Glasgow bought the Water Company from American Waterworks.
After the electric light plant was sold, Dickinson Brothers went into the automobile business, having the agency for both Ford and Overland. Ironically, the brothers did not drive a car, but they sold them, anyway, and within a year built a garage at the corner of Green and Wayne Street.
Day reported that this new venture began to overload Dickinson Brothers and they decided to dispose of the express agency and the Standard Oil agency. (6)
Bartlett Graves died at the age of 41 on May 25,1918. Kate Ganter thought that her father died of pernicious anemia; her brother Brents remembered it as a brain disease/brain tumor.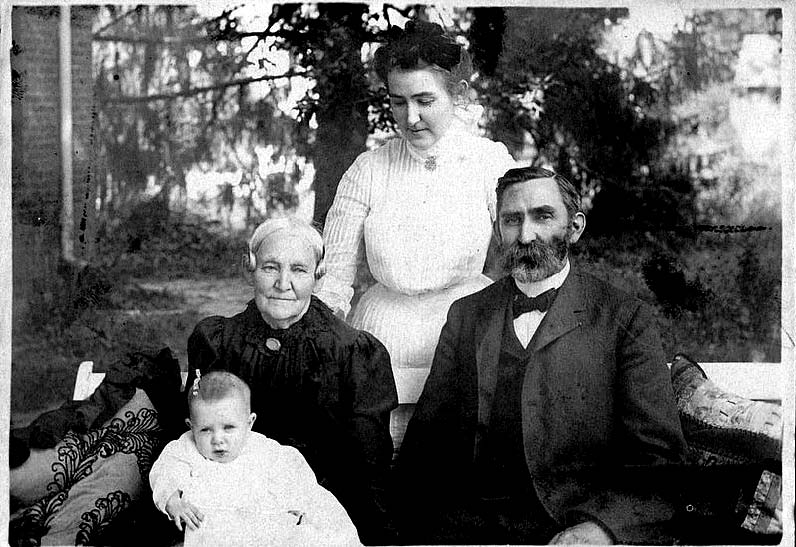 Four Generations:
Rogers Dickinson, Olivia Lewis Rogers, Lelia Rogers Dickinson,
Jo U Rogers

At any rate, Lelia was left on her own to raise seven children at age
43. Lelia's parents, Katie B and Jo U Rogers, sold their home on Main Street that had been built by Glasgow's first settler, John Gorin, to be able to move to 321 West Washington and help Lelia with the children.
Jo. U became a father figure for the children. Although, Grandmother Kate, was blind (from glaucoma), her hearing became honed to perfection to compensate for her lack of sight and she could often be heard saying such things as "Lelia, the children are on the roof!" Sam even thought her sense of smell was enhanced, as she often caught him by just smelling him as he passed by. (71)
She still made quilts, crocheted, washed dishes, and kept "watch" over the younger children. Grandmother Kate continued to sing in the choir at the Baptist Church and even taught Sunday school after she was blind.
Grandfather Rogers would read her the lesson before each class. She also, continued to go to choir practice and sing in the choir. Kate Rogers loved genealogy and history, family history in particular, and was instrumental in recording and maintaining records of the family's history.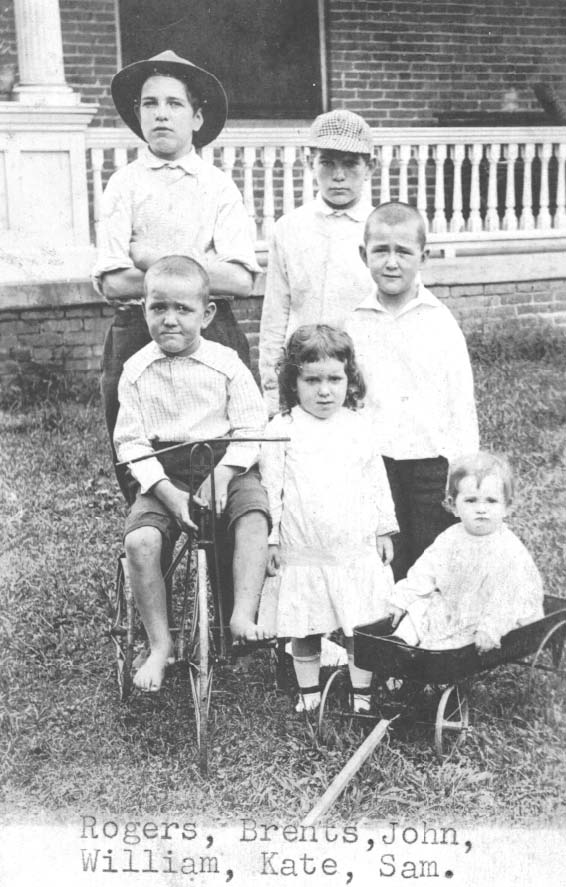 After Bartlett Graves died in 1918, the surviving brothers tried to continue the business, but had a difficult time without Bartlett, and in 1922 decided to liquidate and settle the partnership.
Times were hard, but within a year Brents and Day sold everything and paid every cent owed. (6)
Upon his death, Bartlett Graves left a $100,000 life insurance policy for his family, which included a $5,000 trust fund for each of the seven children's education. According to Lewis Dickinson, Bartlett Graves' brother-in-law, Paul Holman, had advised Lelia to invest the insurance money in stocks and bonds, but she wouldn't do it.
One of the last things that Bartlett Graves had told her was to put the money into government bonds. Government bonds paid 2½% at the time, but this was the 1920's and the beginning of the depression. The stock market crashed and banks closed and the only safe place for money was in government bonds.
So, the Dickinsons didn't lose their money during the depression like those who had invested in stocks and bonds, including their Uncle Paul Holman. Lelia was able to take sums out of these trusts for school clothes and other school necessities for educational purposes during the depression when other families had very little.
Lelia also gave $1,000 of the life insurance money to the church to start a mission in Bartlett Graves' memory in India. The family has letters that were written to Lelia about the mission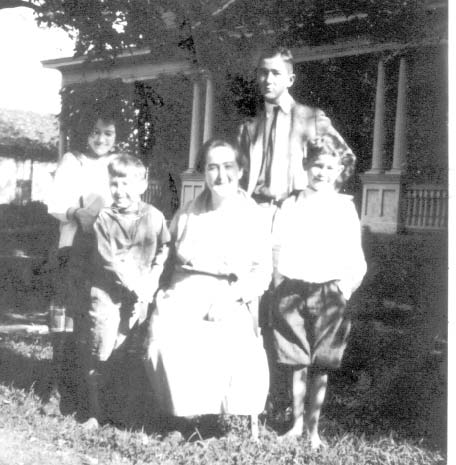 Kate, Lewis, Lelia, John and Sam
Lelia now had 7 children and a father and blind mother to look after. She employed cooks to help, and at times they lived in the basement apartment.
It was Lelia's custom to feed her family of ten their main meal at noon. She would then warm up the leftovers and make corn meal muffins or biscuits for supper when she had to cook. The family grew a large garden and had a family cow that the boys would milk.
The story is told that Lelia's grandparents, Olivia Lewis and John
T. Rogers were expelled from the Peter's Creek Baptist Church for dancing. They came to town and joined the Presbyterian Church, but the Presbyterian minister reportedly told them that they were Baptists and they needed to go on down to the Glasgow Baptist Church "where they belonged."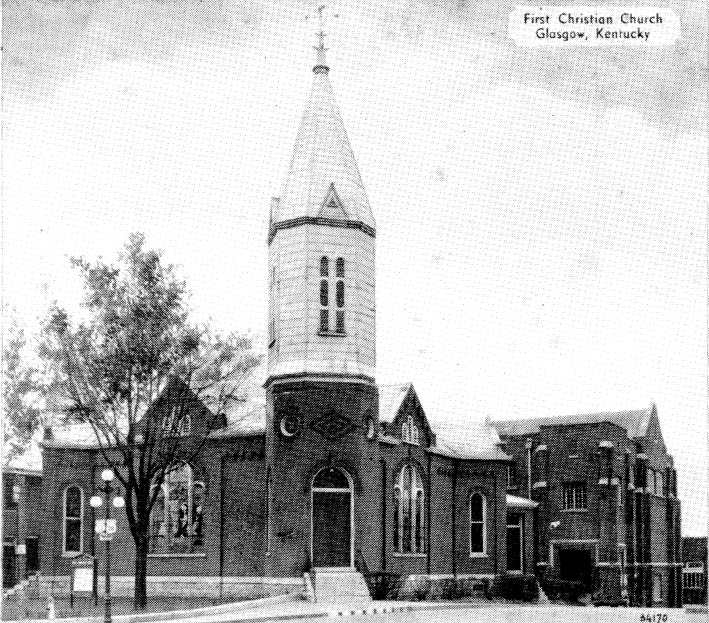 Lelia, however, joined Bartlett Graves' church, the Glasgow Christian Church when she married Bartlett Graves. Lelia became a pillar of the church, taught Sunday school, and raised her children to be faithful members of the church.
When Dickinson Brothers owned the Electric and Ice Companies, they brought a man named Boyd to town to manage both companies.
When Bartlett Graves died both companies were sold, but Boyd stayed on to run them.
As the boys got old enough to drive, Mr. Boyd would give them jobs in the summer at the electric company or at the ice company delivering ice.
Lewis Dickinson tells about the ice company having a huge truck that ran on batteries, and since the electric company owned the ice company, it was affordable to charge the batteries each day after deliveries had been made.
| | |
| --- | --- |
| | As the children married and had their own children they all settled in Glasgow and gathered at 321 Washington for Memorial Day and Fourth of July picnics, Thanksgiving dinners and Christmas Eve gift exchanges. |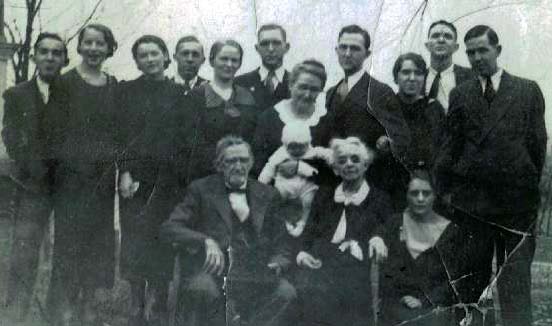 Thanksgiving 1933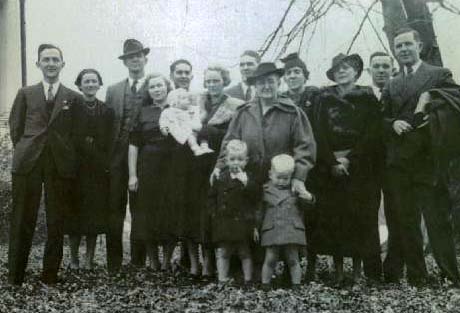 Thanksgiving 1937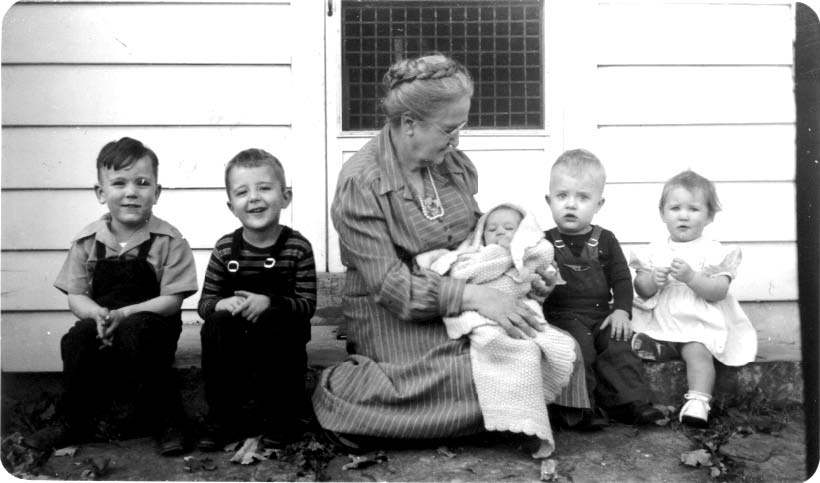 Barty, Joe Rogers, Lelia, Betsy, Charlie & Mary Lynn 1943
Lewis and Selma returned from medical school at the University of Louisville, and moved into the family place that had been given to Lewis. Lelia had her own bedroom, bath and kitchen on the ground floor of the family home. All of the boys, except Sam, served in the military during WW II, and Lelia was presented a Five Star pin in honor of their service. This pin is in the Kate Ganter Archives in possession of Lelia Handy.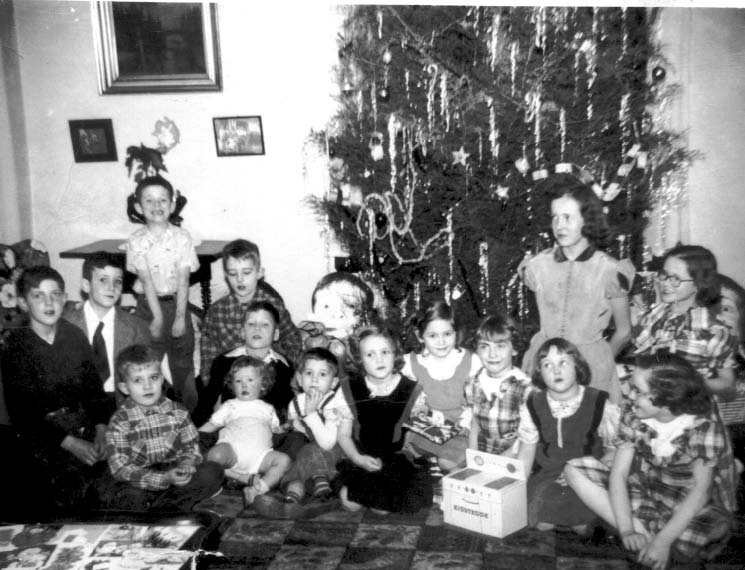 Christmas Eve at Grandmama Dickinson's House 1949
Lelia had been determined to raise at least one son who did not smoke, and promised to leave Lewis the family house, if he would not smoke until he was 21.
Lewis said he immediately stopped smoking when his mother offered the deal. He says he did take up cigar smoking after he was 21, however, but that his mother didn't object, as Bartlett Graves was known to have smoked a few cigars in his day.
Lelia died at home on December 21, 1951. She had high blood pressure, but refused to go to the hospital. Friends and family called to pay their respects to her as she lay in state in the living room of the house where she had raised her large family. Following the funeral at home, Lelia was laid to rest in the Glasgow cemetery beside her husband, Bartlett Graves.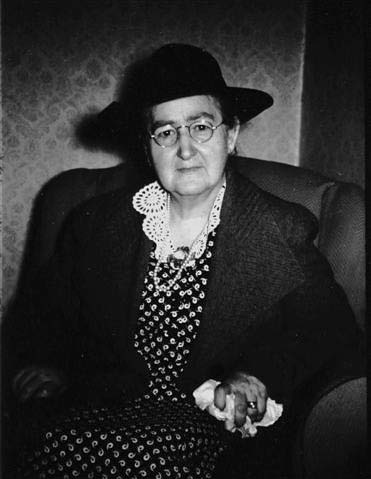 Lelia Rogers Dickinson
Bartlett Graves Dickinson b. Dec 5,1877, d. May 25,1918, m. Oct 18,1900 Lelia Rogers, b. Mar 12, 1879; d. Dec 29, 1951; 8 children:
1. Joseph Rogers Dickinson
, b. Dec 21,1901,
d. Aug 26,1954: m. Nov 24, 1932 Inez Marie Schneider, b. Dec 4, 1905 in Greenville, Mississippi, daughter of Leonard Charles and Anna (Koerber) Schneider of Monroe, La; d. Dec 24, 1976; 2 children
Joseph Rogers and Inez Dickinson
(62)
Rogers was born in the Holman house at 601 South Green Street in Glasgow. He was a member of one of the first Boy Scout troops in Glasgow, and had a stammering problem as a boy. His mother sent him away briefly to the Bogue School for Stammerers in Indianapolis, briefly during his senior year in high school. Rogers went to college at the University of Virginia. His mother had given him all of the $5,000 that Bartlett Graves had left him for college, and Rogers managed to spend all the money in his first year and then went to work briefly for Dupont Chemical Company in Philadelphia. Within a year he was
Rogers, Inez, Joe & Charlie

back in Glasgow and working at the Farmers National Bank. Rogers worked at the bank the rest of his life and reached the position of vice president.

Rogers met Inez who was visiting a friend in Glasgow in 1931. Inez was a Catholic and Rogers' heritage was protestant. There were few Catholics in Glasgow and Roger's love for Inez proved to be remarkable and courageous. When they agreed to marry, Rogers signed a statement that the children of the "mixed" marriage would be raised in the Catholic faith. Inez's father was an accountant of German descent. Inez was the oldest of six and educated in a convent school in Monroe, Louisana.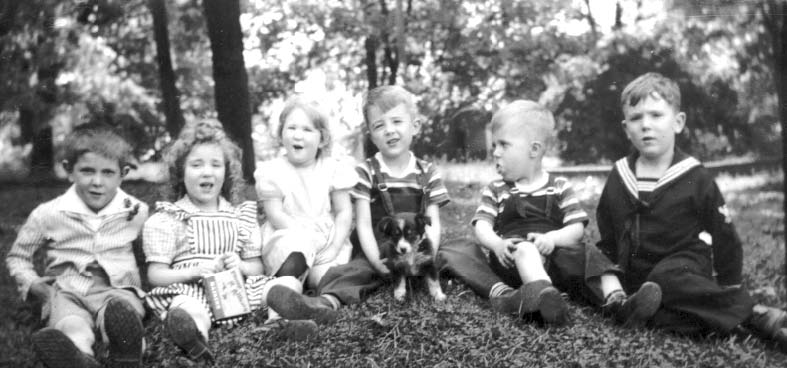 Fred, Lelia, Mary Lynn, Joe, Charlie, and Barty – May 1945
Rogers and Inez initially lived at 317 West Washington and then moved to 315 West Washington when John went to the Army. In 1952 they bought their home at 115 St Mary's Court after his mother died.

Rogers and his sister, Kate had inherited the Kilgore House across the street from 321 West Washington, which they sold and Rogers used the proceeds to buy the home in St. Mary's Court.

They also bought their first car at this time, but Rogers never had a driver's license. Inez took him to work and picked him up for lunch almost every day.

Rogers worked long hours and made sacrifices in order to be able to provide for the family, and buy stock in the Farmers Bank.

Rogers insisted on joining the service at aged 42, during WW II, much to the consternation of his mother and Inez. He had visited the recruiting station eleven times
and on an apparent stammer-free day, was finally accepted by the Navy. He later asked for a hardship discharge with a wife and 2 children, but Inez refused to agree and Rogers was not discharged until August 1945.
Inez had a very strong moral side, and she made every effort to transmit it to her sons. She took the boys to mass every Sunday and later to Catechism classes. She was active in the effort to get a full time priest in Glasgow, and would often offer her home to the commuting priests from Louisville.
Rogers died of a heart attack at the T.J. Sampson Hospital on Aug 26, 1954, where he had been since his first attack a few weeks earlier. Inez had to re-enter the work force at the age of 49, working for Sarah Porter Goodman's Insurance Agency. She eventually suffered a "nervous breakdown" and spent some months at a hospital in Louisville enduring infamous shock treatments.
Inez returned home and worked a simpler job as a bookkeeper at Richardson Hardware and later at Nunn Auto Supply. She also convinced the Archbishop of the Diocese of Louisville to give both of her boys' full tuition scholarships to Bellarmine College.
Inez acquired the nickname "Chief" from her boys, and retired in 1970, living frugally but comfortably, on Social Security and bank stock.
In the spring of 1976, Inez began to suffer some acute anxieties and lived for several months with Lewis and Selma. Lewis tentatively diagnosed a stroke and in June Inez went to live with her son, Joe Rogers and his wife Fran, in Rockville, MD.
Inez knew that this was the end of the Glasgow era, and was diagnosed in Maryland with a tumor in the right lobe of the brain. She was operated on, but never left the hospital. The family found her a priest and afterwards she seemed at peace with herself. She died on December 24, 1976 and is buried in the Dickinson plot in Glasgow beside Rogers.
Children of Joseph Rogers and Inez Dickinson
1. Joseph Rogers Dickinson, Jr, PhD. b. June 10,1939 in Glasgow; m. July 26, 1969 Frances Teresa Durdock, b. Feb 17, 1942, daughter of Frank and Julia Durdock of Shamokin, PA; 4 children 1A. Julie Ann Dickinson b. August 2, 1971; m. April 1, 1995
Peter Berg, b. April 14, 1970, son of Edwin and Marilyn
Berg of Burnsville, MN; 2 children 1A1. Monica Frances Berg, b. 7/23/00; 1A2. Susana Radey Berg b. 5/5/03.
1B. Maria Frances Dickinson b. December 6, 1973; m. on July 26, 1998 Stuart Thomas Janney, b. Oct 30, 1974, son of Steve and Kathy Janney of Gaston, IN; 2 children;
1B1. Benjamin Stephen Janney, b August 31,2001;
1B2. Bridget Frances Janney
b November 22, 2003
1C. Joseph Rogers Dickinson, III b. May 14, 1975; m. on March 27, 2004 Nancy Allison Clark, b. on August 13, 1974 daughter of Neil Clark and Carol Pingree Clark Sarver of Oskaloosa, IA;
1D. Elizabeth Ann Dickinson
b. June 4, 1981
2. Leonard Charles Dickinson, PhD b. December 12, 1941 in Glasgow, KY; m. on June 8, 1966, Ellen Marie Spathelf, b. May 2, 1944 daughter of William Gunar and Phyllis Alley Spathelf of Washington, DC; 2 children
2A. Emma Marie Dickinson b. November 2, 1969, m. on Aug 24, 1996 Richard Carl Brong, son of Gerald and Marlene Lindauer Brong of Ellensburg, WA
2A1. Irene Brong b. September 25, 1998
2B. William Charles Dickinson b. July 18, 1972; m. on May 18, 1996 Andrea Grimm, b. October 4, 1972, daughter of Jacob (Jack) Andrew and Barbara (Cockerell) Grimm
2B1. Andrew Jacob Dickinson
, February 16, 1999
2B2
.
Matthew Charles Dickinson
, Oct 19, 2001
2B3
.
Simon William Dickinson
, August 29, 2003
2. Bartlett Graves Dickinson, Jr. b. Aug 25, 1906, d. Apr 2, 1907 at home on 106 S Green Street;
From the diary of Lelia Rogers Dickinson:
Jan. 5, 1909
I begin this diary tonight in the book in which I wrote about Bartlett Graves & I mean for this diary to be a diary of grave and important words & as I look back over it in after years I want it to seem mile posts in the life of a woman.
I just realized today that the big house was built for mother & father and the boys to live with us. Until Bar sold our home I had an ideal of married life and family life that I hoped some day to reach. I have had my ideals considerably shattered and disarranged during our 9 months of boarding. There are quite a number of realities facing me now & I trust with God's help to be able to meet them as a true woman. God forgive me for all the ugly things I have said & felt about not wanting the big house & give me strength to keep it & make it a home for my husband & children and mother & father & brothers.
My mother is blind and unable to keep house and I am her only daughter and should be able to keep house for her more satisfactorily than any body else & I mean to do it.
I don't know just how it will all work out but I believe that in a few years they will be living with us and please God that it will be during mother's lifetime & that she will be happy.
Bartlett Graves Dickinson, Jr. was born at quarter to ten, Saturday night August 25, 1906. The first week of his life he was wakeful just about that hour. I thought maybe he was waked so wide the first night of his life by his birth that he waked every night about that time. When I took sole charge of him at the age of three weeks I soon got him straightened out so that he wasn't wakeful much at night. The larger part of his life he would just waken me once in the night. I would take him in the bed and nurse him and put him right back in the cradle and he would sleep till early morning.
He was the best baby I ever saw. I often marveled that he was so good. I loved him devotedly from the first hour of his life. He was so good and sweet that I couldn't help but love him. I thought that he reached depths of mother's love in me that had never been reached before. I thought him the most beautiful thing that I had ever seen. During his illness as I held him in my arms I thought that it would be impossible for anybody to be more beautiful. The dear little fellow complained so little. One day when the fever was just burning him up he was moving his little lips and he said the word ma-ma. He said it distinctly that day several times ma-ma.— Oh what wouldn't I give to hear that word from his little lips again!
After the fever left him he had such a hard time. He was so sick at his stomach. And he just laid there so patiently and never cried and then the last day at night he must have suffered so much but he just lay as patiently. I trust that I may be able to bear suffering hereafter without a murmur when I remember how much my little boy suffered and never cried out.
The nurse came the last night and I was so worn with watching and anxiety and I had such confidence in her that I went to bed at ten and slept till 2:30 when the little boy cried and I jumped up. The nurse said, "Mother, he isn't doing so well. His pulse isn't good." I jumped up and sat down by him a few minutes. I could see that he wouldn't last long. I dressed & soon called Bar. The little fellow lay there and every now and then he would moan like he was so sick at his stomache. His eyes were partly open and becoming glazed. I felt like I would give so much, so much just to hold him in my arms one more time but I knew it would only hurt him in the last days.
We had moved his cradle up before the fire and every now and then the nurse warmed the little blanket and tucked it around him. About 5 minutes before the last, he closed his eyes and the end was so peaceful. At 5 o'clock Tuesday morning, April 2, 1907, the spirit returned to God who gave it.
(These words are written in pencil on the front and back of three ruled notebook pages that appear to have been cut out of the notebook together. The handwriting is my grandmother, Lelia Rogers Dickinson's, although there is no signature. I have left the punctuation and spelling as she wrote it. —Lelia Ganter Handy) (42)
3. Brents Dickinson, Jr. b. May 7, 1904, d. Jul 1, 1981; m. in Bowling Green, KY on Oct 10, 1930, Gwendolyn Holman b. Apr 21, 1907, daughter of Henry Holman of Becton and Mildred Ann Anderson of Beach Grove, d. Jul 28, 1980; 3 children
Brents and Gwendolyn Dickinson (62)
Brents was named for his father's brother, Uncle Brents Dickinson. He was six when the family built the family home at 321 West Washington Street, and when his father died, Brents was eleven.

His grandfather, Joseph Underwood Rogers moved into the house on West Washington Street, and became an important father figure to Brents.

After Brents learned to drive, he worked delivering supplies to country stores for Dickinson Brothers Wholesale Company, and played on Glasgow's first football team.

Because of Brents' sinus trouble, a doctor advised him that he would die of TB, if he

did not move to a drier climate. So, after graduating from high school in 1923, he took the train to Tucson, Arizona and enrolled in the University of Arizona.
Brents disliked it so much that be decided that it would be better to die young, than to live in Arizona. He completed his studies at UK, including Law School, and passed the bar in 1927.
Brents returned to Glasgow and began his practice with Judge Logan Porter. Years earlier, Judge Porter learned law from and had begun his practice with William Dickinson, Brents' grandfather.
When Brents began his practice, he bought the first car in the Dickinson family, a Model A Ford. The car took him to Becton to visit Gwendolyn Holman, but some say that he walked the six miles to the Holman Place at 7228 Old Bowling Green Road in Becton to visit Gwendolyn before the car's purchase.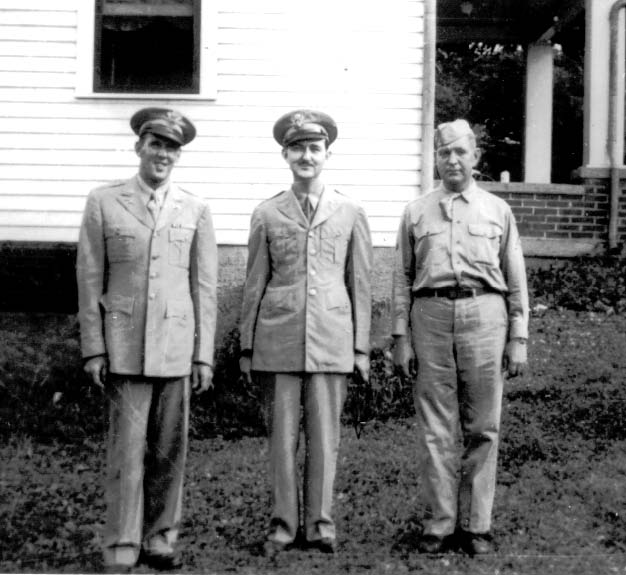 Fred Ganter, John, and Brents
In 1930 Brents was elected Judge of the Glasgow Police Court, and could afford to get married. He and Gwendolyn drove to Bowling Green on October 10, 1930 with Mildred and Harry Holman, sister and brother of the bride, and were married.
Brents and Gwendolyn first lived in St. Mary's Court, then moved to the corner of Brown and Leslie Avenue, then to the 115 West Washington Street house that Lelia had built with Sam's college money. Their final move to 205 West Brown Street was in 1939.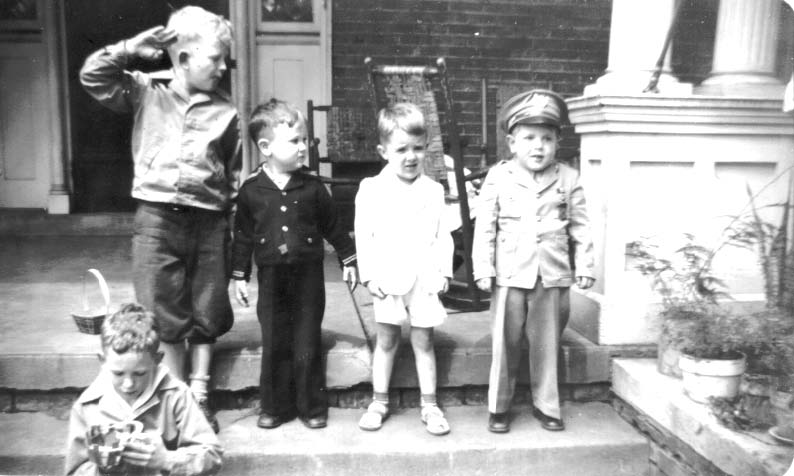 Henry, Barty, Joe Rogers, Freddie and Brents III at Grandmama's, 321 West Washington
Brents also served as Barren County Attorney, Glasgow City Attorney, and Special Circuit Judge. He taught the Combs Men's Bible Class at the First Christian Church for 35 years, and during WWII Brents volunteered in the Army Air Corps and was a staff sergeant. He practiced law for 52 years and retired in 1978. Brents died at age 77, on July 1, 1981.
Gwendolyn's father, Henry Holman died of a stroke when she was 11 years old, leaving her mother, Millie Holman with seven children, a country store, and a farm to manage.
Gwendolyn attended the first eight grades in a one-room school adjacent to the Holman property. Her father had donated the land to the Becton Community. Gwendolyn attended high school in Glasgow, and according to some, she rode a horse to Glasgow along with her brother Harry, almost every week. She boarded in town while attending high school; Harry would take the horses back to Becton and return with them on the weekend.
Others claim Gwendolyn never rode a horse. Gwendolyn played on the girl's basketball team, and after graduating high school, returned to the one room school, where she taught her younger siblings, and others.
Later Gwendolyn moved back to Glasgow, and worked as a legal secretary for John Richardson. She never learned to drive a car.
She married Brents and gave up working, as was the practice in that day. She did go back to work part-time, as Brents' secretary, and worked until he joined the Richardson, Barrickman & Dickinson Law Firm.
Gwendolyn enjoyed good health most of her life, but suffered a major stroke in 1964. She survived, but was partially disabled until her death in 1980.
Children of Brents and Gwendolyn Dickinson
1.) Brents Dickinson, III b. March 23, 1933, m. on August 17, 1958 Billie Neal Howard, b. Dec 20, 1936 daughter of William Evans Howard (Fountain Run) and Mary Elizabeth Miller (Temple Hill), KY; 2 children; family website is http://www.pandcdickinsongenealogy.com
1A. Elizabeth Brents Dickinson b. November 3, 1961 in Lexington, KY;
1B. Christopher Howard Dickinson b. February 11, 1964 in Lexington, KY m. on June 8, 1992, Melissa Earle, b. July 1, 1973, daughter of Frank Earle and Janet Orick; 2 children
1B1. Peyton Elizabeth,
b. on June 3, 1995
1B2. Claire Lillian,
b. on July 14, 1998
2.) Henry Holman Dickinson, b. July 4, 1934, m. on August 24, 1958 Emmy Lou Miller, b. August 17, 1937, daughter of Lawrence L. Miller and Lyda Smith Miller; 3 children;
2A. Laura Day Dickinson, b. November 25, 1960; m. on Dec 1, 1991 to Mark DelCotto, b. Sept 10, 1959, son of Robert and Sylvia DelCotta of Chicago, Ill, 2 children;
2A1. Paul Matthew DelCotto, b. September 4,
1988
2A2. Ellen Louise DelCotto, b. January 19,
1993

2B. Thomas Miller Dickinson, b. May 25, 1964, m. on Jan 2, 1993 Denise Lyons, b. Aug 29, 1963, daughter of Tommy and Kaye Lyons of Glasgow, KY; 2 children
2B1. Emma Kate Dickinson, b. March13, 1996 2B2. Wesley Stuart Dickinson, b. September 26, 1997
2C. Amy Holman Dickinson, b. July 24, 1970, m. on June 29, 1996 John Lecky b. Jan 2, 1965, son of Dr. James Lecky and Paige Lecky of Phoenix, Arizona; 2 children
2C1. Thomas Henry Lecky,
b. December 29, 1998
2C2
.
John Finley Lecky
b. November 15, 2001
3.) Lelia Ann Dickinson b. May 15, 1937, m. on June 9, 1961 Grant W. Smith, b. July 26, 1937 son of George W. and Hazel Smith of Bellingham, Washington; 2 children 3A. Kathryn Ann Smith, b. November 5, 1966 in Wilmington, Delaware;
m. #1 on Sept 19, 1990, Phillip Thatcher, son of
Torin Thatcher of New York and Hollywood; 3A1. Lelia Eleanor Thatcher, b. November 11, 1995 in Wahiawa, Hawaii.
m. #2 on Feb 27, 1999, Daniel Caton York, son of Chris and Susan York of Kaneohe, Hawaii. 3A2. Olivia Loea York, b. Sept 4, 2000 in Wahiawa, Hawaii 3A3. Marley Mahina York, b. Aug 2, 2003 in Honolulu, Hawaii
3B. Gavin Walker Smith, b. December 12, 1968 in Spokane, Washington; 4. John Dickinson, MD b. Mar 7,1908; d. Oct 14,1989; m. Oct 28, 1938 Mildred Holman daughter of Henry Malcolm Holman and Mildred (Millie) Anderson Holman of Becton, KY, b. Sept 19,1912, d. August 21, 2004; 3 children;
John and Mildred Dickinson (62)
John was born in the family house on 601 South Green Street, but almost did not survive a childhood bout with typhoid fever when he was about three. His mother nursed him day and night, determined not to lose another child after the death of Bartlett Graves, Jr,. just a few years before. They formed a strong bond that lasted throughout her life.

Like his siblings John had an upbringing that included work and play. He had jobs working at the local e plant, picking strawberries, and hauling mortar for bricklayers. Throughout his life John had a lively sense of humor and was a great storyteller. He drew caricatures in his textbooks, and played football on his high school team, where he

was voted the toughest player. After high school, John and close friend Donald Bowles headed off

to Virginia Military Institute to school. VMI made the newspaper with

coverage of harassment of freshmen that had suffered at the hands of

upper classmen, and his friend Donald's mother headed to Virginia and

brought both her son and John back home to Glasgow.
Subsequently, John entered the University of Louisville. He was asked to retake his entrance exam by the admissions office and they reported that John basically blew the lid off of the test. John received both his undergraduate and Medical Degrees from the University of Louisville.
Mildred was a younger sister of Gwendolyn Holman from Becton, and like Gwendolyn, her first years of school were in the one room schoolhouse at Becton.
Mildred, also, attended high school in Glasgow, and would ride horseback to Glasgow with her brother on Mondays. Her brother would take the horse back to Becton, and return for her on the weekend.
She lived with her Uncle Paul and Aunt Annie Dickinson Holman after their daughter Elizabeth Brents moved away and left an empty bedroom. Mildred did not have the opportunity to attend college, but she became a lifelong learner, sharpening her native intelligence through reading and working complicated cryptic crosswords and double acrostics puzzles.
After high school, Mildred worked all day at the Trigg Bank, then went upstairs to the lawyer's office and typed up dictation and still found time for her favorite pursuit, dancing.
She lived with her sister Gwendolyn and her husband Brents Dickinson in their home, next to the Dickinson family home on West Washington.
John met Mildred after he returned from Med School and they were married on October 27, 1938. Their first years were lean and they lived in the house next door to the family home; while John worked to build up a practice.
John was quick to join the army after Pearl Harbor. Surgeons were valuable and John was soon sent overseas. Mildred and the family (Martha and Ann) moved back to Glasgow, where they lived with Brents, and Gwendolyn and their children.
John was assigned to New Zealand, and a field hospital on the island of Saipan. There he and other doctors and nurses struggled to deal with the casualties from battle such as Okinawa and Iwo Jima.
It was a searing experience for him, struggling with limited means to repair the horror that war could do a soldier's body.
When John returned, the family lived in an apartment on Columbia Avenue, and in January of 1947 moved to 501 Leslie Avenue, at the foot of Jefferson Street where their daughter, Joan was born.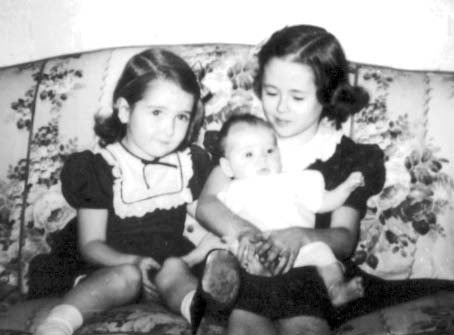 Ann, Martha, and Joan
Not long after, Mattie Britt came to work in John and Mildred's home. Mattie had made a deal with Dr. John: she would take care of his children and he would take care of hers. Mildred planted flower and vegetable gardens behind the house on Leslie Avenue.
In 1957 they built their own home on Maplewood Place. There and on the lot next door, both John and Mildred grew a bounty of flowers and vegetables. Mildred became a gourmet cook and an excellent seamstress. The girls often had matching dresses and book covers for school. Both John and Mildred spent long hours reading to the children.
The families of John and Mildred and Brents and Gwendolyn were very close and the children were double first cousins, the first of two sets in the Dickinson family.
Descendants of John and Mildred Dickinson
Martha Dickinson

,

Ph.D

b. December 26, 1939

Mildred "Ann" Dickinson, Ph.D

b. December 21, 1943 in Austin, Texas; m. on Sept 2, 1966 Harley Juneau Beal, son of Harley Darius Beal and Gertrude Banks Beal; 2 children

2A. Jonathan Llewellyn Beal

, b. November 27, 1976 in Greensboro, North Carolina

2B. Madeline Elizabeth Beal

, b. August 24, 1979 in Siler City, North Carolina.

Joan Dickinson,

b. September 10, 1949 in Glasgow, KY; m. December 27, 1970, Henry Hiott Walker b. February 8,1948, son of John Albert Walker and Jean Beaman Walker in Knoxville, Tennessee. 2 children.
3A. Aaron Seth Walker, b. October 10, 1973 in Durham, North Carolina;
3B. Isaac (Ike) Oakley Walker, b. July 20, 1977 in Durham, North Carolina; m. on July 28, 2002, Liz Botein, b. December 6, 1976 in Livingston, New Jersey, daughter of Barbara Pecker and Mike Botein, NY, NY;
3B1
.
Rachel Frances Walker
b. February 10, 2005.
5. William Dickinson b. January 14, 1911 d. July 19, 1991; m. August 12, 1937 LaVece Carr Ganter, b. March 25, 1916, d. January 12, 1998, daughter of LaVece Carr and George Lewis Ganter; 5 children;
William and LaVece Dickinson (62)
L

aVece, William,
Betsy, Mary Lynn

a

nd Barty
1946

William grew up at 321 West Washington, about 4 houses east of the Ganter home at 415 Washington, where his wife-tobe, LaVece Carr Ganter, was born and raised. LaVece was the daughter of George Lewis and LaVece Carr Ganter. William's sister, Kate and LaVece were best friends, and LaVece spent a lot of time at the Dickinson home. LaVece and Kate were known to occasionally sneak through the attic and climb out onto the roof of the three story Dickinson house, and hang their feet over the side, gazing into the stratosphere.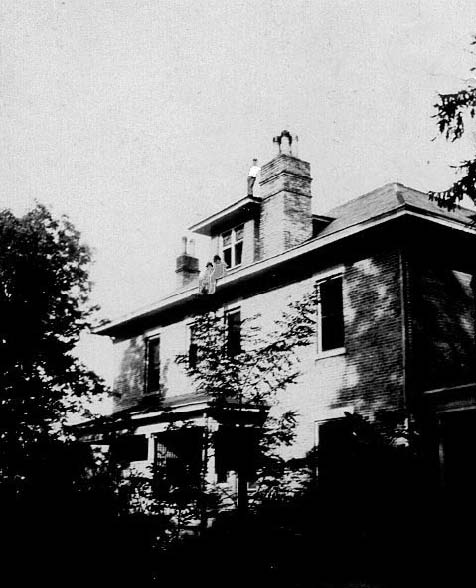 LaVece and Kate sitting on the roof and Lewis by the chimney
William was rather large, at least in height, and he could remember his older brothers taking him around town with the challenge, "Hey, let's you and him fight," and then they would stand back and watch to make sure that William didn't really get hurt.
The Ganter household, too, often had grandparents like the Dickinson's. Judge Dulaney R. Carr (the first Republican Judge of Barren County), and his wife Jenny Lynn, had lived next door to the their daughter LaVece Ganter's, house on Washington Street, one house closer to the Dickinson.
Jenny Lynn Carr, however, died just before LaVece was three, and Judge Carr moved in with the Ganters. Molly Lazarus Ganter, LaVece's paternal Grandmother, had died about 2 months before and eventually Grandpa Lewis Frederick Ganter divided his time living in the Ganter household and those of his daughters, Nellie Schriner who lived in Kerrville, Texas, Johanna Swearingen from Chicago and Mamie Coke who lived in Tampa, Florida.
D.R. Carr had been a Captain in the Union Calvary (Wild Riders of the 1st KY Calvary) during the "Civil War," but Grandpa Ganter was a southern sympathizer in the "War Between the States," and LaVece remembers that they continued to argue the war verbally as long as both were alive.
LaVece's great grandfather, Joseph Ganter, had been a court musician in Germany and came to America when he found himself on the wrong side of a political dispute. The Ganters loved to sing, and LaVece had a lovely voice and sang in the church all her life. LaVece turned down the opportunity to be a cheerleader in high school, so as to not damage her voice.
Both the Dickinsons and the Ganters attended the First Christian Church, where Grandmother Dickinson was a pillar of the church and taught Sunday school, and Grandmother and Grandfather Ganter sang in the choir.
LaVece sang her first solo in church at three years of age. She was put on the communion table and sang, "Jesus Loves Me". LaVece sang in the choir the rest of her life.
William flunked the first grade because the principal could not read his handwriting. This was also about the time that his father, B.G. Dickinson, died. William was not only unusually tall, but was now also a year older than most of his fellow students.
Big Bill, as he was called, played tackle for Glasgow High School. Glasgow High played Lindsey Wilson Junior College when William was a junior, and went on to be the state football runner-up that year, then won the state championship his senior year.
Big Bill won a metal for the team's Most Valuable Player his senior year. William and Fred Ganter built a tennis court at the end of what was the Kilgore lot, next to the high school, which was owned by Lelia Dickinson. This eventually became the high school tennis court.
Meals at the Dickinson household were a big production. There were many mouths to feed, and William remembered his mother making a whole pie (not a full-sized one, but a whole pie) for each person (at least the boys). William helped raise a large garden with John and Sam (under the direction of Grandpa Jo U. Rogers) on a plot between Liberty and South Green Streets. The boys made money from the sale of the produce.
William could also remember riding in a buggy with his Grandpa Rogers who had business all over the county. The boys would open the many gates through which the roads at that time went. (11)
William and his first cousin, Caldwell "Doc" Rogers, had an old model-T Ford, which they could take apart and reassemble, and they would drive it to Nashville and back. Once on a return trip, the low gear went out. William and Doc had to go up the hills in reverse, the only "low" gear they had left, the rest of the way home.
The Model-T sat in the garage for a long time, perhaps when William and Doc were away at college, and some fellow from "Page's Height" allegedly stole the car – one piece at a time.
Most of the football team joined the National Guard, which at that time was the horse cavalry. William and the Guard were called out to help in Louisville during the flood of '37.
William used part of his inheritance to study Chemical Engineering at the University of Louisville, but after two years he realized that he would not be able to stand the smell of chemicals the rest of his life, and he returned home.
At some point, William took a bus trip across the United States, and called his mother, who had not been told of the trip, from Seattle to say he was OK and would be coming home soon.

On August 12, 1937 LaVece Carr Ganter and William Dickinson were married in the garden of the Ganter house. William used the rest of his inheritance to build a house at 310 Jefferson for LaVece. William did electrical work for Joe Trabue, and LaVece kept house.
Their first three children were born before September 1943 when William left for military service in the Navy. He was sent to Pearl Harbor to work on submarines as an electrician.
William's name was William, but LaVece quite often referred to him as "Won'tshum". Grandmother Kate Trabue Rogers had probably coined that name. William didn't work hard enforcing his will on others, nor did he readily bend to orders from outside.
One of the things that "Won'tshum" absolutely would not do was go to church. LaVece sang in the choir and was always there for church, but it was John and Mildred who always took William's children to Sunday school and brought them home from church.

In "Won'tshums" defense it must be added that when the children returned from church he nearly always asked them what had happened at church and what the sermon had been about.

William was an electrician for 20 years. He was at the same time, said to be both the best and the least expensive

electrician in Glasgow. LaVece was his secretary and sent out his statements.

LaVece always did everything she could for her five children. She was often teased as rearing five "only" children. She made beautiful clothes, particularly at Easter, for her little girls, and made innumerable cakes and pineapple meringues for her little boy.
This tale from granddaughter, Beccy, daughter of Barty and Suetta
Towards the end of her life LaVece lived more and more in the past so on visits to her grandmother, Beccy found that asking questions about the past provided not only interesting conversation but also small glimpses of a side of LaVece she did not know.

Often the conversation turned to William. LaVece recalled "typical" dates: They would go downtown to a movie and then to the soda counter for ice cream. LaVece understood that William liked her just the way she was and did not think she was too soft like the ice cream. William had grown into a reserved man long before his grandchildren came along and so they often misunderstood his humor.
Every time Bart would return home with his flock of children William would push Beccy's button. Bart would unload the car handing each child a bag or two to carry, a line would form like worker ants as they made their way from the car into the house and up the stairs.
LaVece would hug and kiss each child as they stepped on the porch and William would hold open the door, shake their hands, and greet them each in turn. He always greeted Beccy the same way: "Hello there, cousin Rebecca!" And Beccy would give him the response he waited for: "No, Grandfather, I am not your cousin. I am your granddaughter."
Then Beccy would launch into a lecture about how they were

related, and provide examples of people who were cousins. No one knows how long Beccy would have gone on with her lesson, because Bart would be finished handing out the contents of the car and call from the back "Keep moving Beccy."

Another example of William's humor lost on his grandchildren was his offer of cigars and whiskey. He would often offer the children cigars and whiskey for breakfast in the presence of LaVece.

She would always scold him, "Father William don't offer those children something I don't have." He would grin, knowing he had pushed LaVece's button this time.

I am sure he would have loved it even more if he had known how Beccy interpreted the familiar interaction. While LaVece was sure she had communicated that there was no smoking or drinking in her house, Beccy heard that her grandfather would give her anything she wanted, even cigars and whiskey if only her grandmother had some.
Later in life William developed a glass stomach and fell into an eating routine. Everyday he ate oatmeal, warm milk, whole-wheat toast, and green beans (not all at the same meal). It was the oatmeal that he shared with his grandchildren, and it was the brown sugar that we remember. The brown sugar was kept in large jars on a shelf over the back end of the kitchen table. William would reach up and open the jar with his large hand easily spanning the lid. He would dish out spoonfuls of brown sugar as our faces grinned from ear to ear until LaVece would inform him, "Father William that is quite enough brown sugar."
Without a word he would begin closing the jar and return it to its proper place. Now LaVece was busy fixing the next meal or caring for other people in the house so I don't think she noticed, but the grandchildren knew to wait because after the jar was returned to the shelf, William reached for the jar and to the delight of all, began dishing out spoonfuls again.
LaVece had a way of presenting the best side of a situation: cakes that crumbled became "Earthquake Cakes" and Bart's favorite because it meant the whole cake stayed at home; leftovers were referred to as "Smorgasbord Night;" and while grandchildren may not have been fond of broccoli they all loved eating "Little Baby trees."
Children of William and LaVece Dickinson
1. Bartlett Graves Dickinson, b. September 28, 1939, in Glasgow, KY; m. on January 2, 1966 to Suetta (no middle name) Wilson, of Cynthiana, KY; b. November 4, 1943; daughter of Ansel Theodore Wilson of Berry, KY. and Louisa Jane Ammerman of Harrison County, KY.; 4 children.
1A. Bartlett Graves Dickinson IV, b. November 28, 1970,
in Georgetown, KY.
1B. Rebecca Carr Dickinson, b. November 18, 1971, in
Georgetown, KY; m. on June 29, 1996, to Nathan Clarke
Bell, of Cincinnati, OH.; b. July 26, 1971;son of Jerelene
Sue Yates of Grundy, VA. and William Edgar Bell of
Butler, KY.
1B1. Jonathan Logan Dickinson-Bell
b. June 24, 2004
1C. Jonathan William Dickinson, b. October 16, 1973, in Georgetown, KY.; m. May 14, 1999, to Jenna Lee Ross, of Louisville, KY.; b. February 25, 1973; daughter of Richard Lee Ross of Louisville, KY and Phyllis Crawley of Louisville, KY.
1D. Theodore Wilson Dickinson, b. August 3, 1980, in Georgetown, Ky; m May 28, 2005, Carly Marie Hampton, daughter of Steve Hampton and Linda Ritter Hampton originally from Buffalo, NY, both presently of Auburn, KY.
2. Mary Lynn Dickinson
b.August 21, 1941; m. March 19, 1965 Jim Buchanan,

b.Jan 9, 1944 son of Oscar Evans Buchanan and Ada Ruth Stringfield Buchanan of Glasgow, KY, 3 children;
2A. Monica Lynn Buchanan b. Sept 25, 1965; m. on December 20, 1986 Walter Dewayne Reece, son of Walter Lee Reece and Ava Runelle Billingsley Reece of Edmonton, KY; 3 children
2A1. Heather LeAnn Reece, b. August 28, 1989; 2A2. Susan Elizabeth Reece, b. February 21, 1994; 2A3. Rebecca Lynn White, b. April 5, 1997;
daughter of Thomas Wayne White, b. Sept 8, 1947, son of Thomas Harmon White and Marion C. Hicks White of Akersville, KY
2B. Elizabeth Susan Buchanan, b. April 2, 1967, d. July 19, 1993; m. October 5, 1984 John Buchanan, son of Colby Buchanan and Katherine Loy Buchanan of Glasgow, KY; 5 children;
2B1. Jonathan Wesley Buchanan, b. March 16, 1985;
2B2. Forrest Rogers Buchanan, b. January 25,
1987;
2B3. LaVece Carr Buchanan, b. October 17, 1989;
2B4. Natalie Alicia Buchanan, b. April 11, 1991;
2B5. James Cleo Buchanan, February 20, 1993;
2C. Mary Hannah Buchanan, b January 15, 1973; 1 child 2C1. Alexander George b. Apr 31, 2005
3. Elizabeth (Betsy) Brents Dickinson, M
D
b. September 30, 1943;
m. #1 Claude Bernard Walker, III son of Jayne and Claude
Bernard Walker II of Atlanta, Georgia; 3 children
3A. Michael Dickinson Walker b. August 3, 1975;

m. Jan 19, 2001, Mindy Mae Brown b. August 22, 1977 in Ogden, Weber, Utah, daughter of Larry Stone and Georgia Kay Brown from Roy, Utah;
3A1. Kynlee Elizabeth Walker b. Nov 30, 2003; 3B. Claude Bernard Walker, IV b. April 11, 1977 3C. Shelly Jayne Walker b. September 26,1978
m # 2 August 8, 1996 William Sharkey
4. Georgia Lew Dickinson b. Oct 27, 1948; m. Gilman Palmer "Butch" Peterson Jr. b. August 30,1946, son of Gilman .Palmer Peterson and Evelyn Whitehouse; 3 children 4A. Gilman Palmer Peterson III, b. Nov 13, 1975; m. July 20, 2002 to Shana Allen, daughter of James Allen and Sharon Jolly;
4B. Joannah Lynn Peterson b. January 19, 1978; 4C. William Ganter Peterson b. March 30, 1983, d. August 13, 1984;
5. Katie Jo Dickinson b. March 18, 1957; m. on March 5, 1988, Robert Morris Napier b. April 18, 1951 son of Morton and Nancy Morris Napier; 2 children;
5A. Erin Asher Napier
b. May 8, 1990
;

5B. Ethan Arley Napier
, b. January 16, 1994
;

Aunt LaVece Dickinson Aug 3, 1987
. . .people are speaking poems. . . .
— James Still
Your Grandmother Ganter always gathered stones,
geodes of various size and shapes,
for her flower garden on those Sunday
afternoon excursions in the country.

She worked at it for years: paths, stair steps,
you remember the pond, with carp goldfish.

I was married in the garden you know.

She had a time with some of the larger stones.
The boys had to help her move them.
One large stone had recesses in it.
After it was placed in the garden
we began to see blue-tailed lizards there.
We always thought they came there in the stone.

Father William is five years older than me.
I guess he never really noticed me as a child.
I was always underfoot at the Dickinson house.
Your Aunt Kate adopted me as her little sister.
It was after William and your Uncle Fred built
the tennis court and we began to play tennis,
I was sixteen and he was twenty-one,
it was then that he began to notice me.
We were married when I was twenty-one.

There were five of us children
when your grandmother died.
After we sold the house, the man who bought it
complained about all those rocks
in the yard where the garden was.
He leveled it all off. Hauled away the stones.
Now when I go by there, I see the place
where I was married is gone.

— Glen Hughes
6. Kate Trabue Dickinson b. Mar 16, 1913, d. Oct 2,1997; m. Nov 25,1936 Frederick Richardson Ganter, OD b. July 22, 1913, son of LaVece Carr and George Lewis Ganter, d. May 30, 1994; 3 children;
Kate Dickinson and Fred Ganter
(62)
| | |
| --- | --- |
| | Kate, the only daughter of Lelia and Bartlett Graves was very close to her Grandmother Kate Trabue Rogers. Grandmother Rogers had a love for genealogy and history, family history in particular, and she passed on this life-long appreciation of history to her young granddaughter, Kate. Grandma was the family historian whose job it was to preserve family artifacts as well as to collect and maintain the family records. Kate would walk her grandmother to family places and would often read aloud to her. Young Kate wrote letters to distant relatives, and helped her grandmother with research into the family's genealogy. Young Kate would walk her grandmother, who had become blind, to visit her sons, and sisters-in-law and their families. It was through this relationship with her grandmother, that Kate developed a real passion for the family genealogy and thus became her generation's family historian. |
| One of Kate's first playmates was LaVece Ganter. LaVece became the sister that Kate never had, even though Kate was older than LaVece, the two girls played together most of the time. Kate was an excellent student, and she graduated as the valedictorian of her high school class at Glasgow High when she was only sixteen. Kate attended Transylvania College in Lexingotn with part of her inheritance from her father, and graduated with a degree in French. She returned to Glasgow and was hired to teach 2nd grade. Kate married Fred Ganter, LaVece's brother, from "up the street" and moved into an apartment they had made upstairs on the east side of her mother's house. Freddie Ganter was the 3rd son of LaVece Carr and George Lewis Ganter, and he, like Kate, grew up under the strong influence of his grandparents. Freddie was the center on the high school football team, and his 1929 team won the state championship. Whereas Kate graduated in 3 years, Freddie decided to stay on for five years so he could play football for another year. Kate's brother, William was one of Freddie's best friends. | Fred & Kate, LaVece, Lelia, Fred Jr. |
.
Freddie attended Schriner Military Institute in Kerrville, Texas and played football. His father's sister, Nellie Schriner's husband was a large benefactor of the college.
He attended Western KY University after graduating from Schrinner Institute, but
left after a year and a half when he realized they were trying to make him a teacher.
Freddie returned to Glasgow and opened a hatchery business with this brother George Carr in the basement of he family's home on Washington Street.
Fred and Kate and William and LaVece had baby boys three days apart in 1939, and thus began the second batch of Dickinson double first cousins. Fred joined the National Guard at age 15, lying about his age in order to be able to ride the Calvary's horses. William was also in the Guard. The unit later became the 623rd Artillery Battalion. During WW II, Fred joined the regular Army and was sent to Ireland, Africa and Europe. Kate would occasionally share some of Fred's letters with the local newspaper, which made Fred a popular hometown hero.

By 1946 Fred was promoted and put in charge of a Rest and Rehabilitation Center in Belgium. Fred was sent back to the states several times to train troops. Major Fred Ganter had designed and developed the "Ganter Tracer Observation Glasses" for the Army and the glasses were written up in the Army's

Coast Artillery Journal

dated Sept–Oct 1944. The glasses were to assist in the sensing of tracers. The glasses afforded the observer a limited field of vision right at a target. The original pair of glasses in the illustration was made from a standard

GI pair of glasses, two baby food tins with slits, and several layers of scotch tape. Cost – Negligible. Results – an overwhelming success!

The Army promoted Fred and placed Major Ganter in charge of the AAA Officers Self-Propelled Artillery School at Ft. Bliss, Texas.

As the war ended Kate enrolled Fred in Optometry School at Ohio State with the help of his father, George L. Ganter who was also an optometrist. Fred graduated and returned to Glasgow Fred and went into Optometry practice with his father in his office across from J.C. Penny's. He also opened one-day-a-week offices in Scottsville and Tompkinsville. His National Guard Unit was called up again to serve in the Korean War. At this time Lt. Colonol Fred R. Ganter was Battalion commander of the 623rd Artillery Battalion.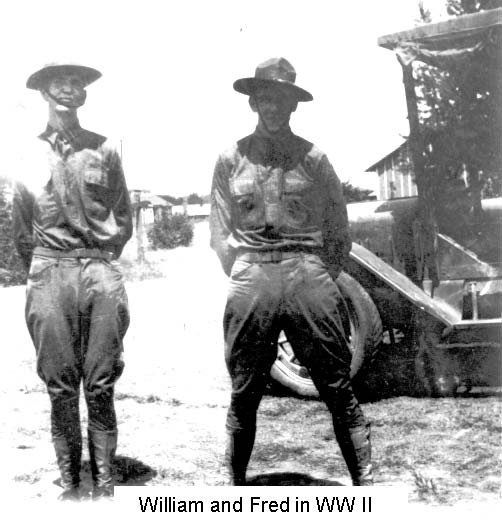 The Ganter family first lived in the "Gray House" (or the Kilgore house) on Washington Street across the street from Grandmother Dickinson. Edward and Annie Kilgore, sister of Jo U. Rogers, had originally owned this house. Ed Kilgore had owned the cemetery, and when the Kilgores died, the house was sold and Jo.U. Rogers bought it, and left it to Lelia. She in turn left it to Kate and Rogers.
The Ganter's built a new house at 709 Leslie Avenue. Fred had drawn the plans and had incorporated the doors and woodwork from the George W. Trabue House. The Trabue house had been on Main Street and had been torn down to build a tobacco warehouse. Sometime after the Ganters moved, the Gray House across from the family home at 321West Washington was sold to the Howard Clinic and torn down to make a parking lot.
After mother Lelia died in 1951 the family responsibilities fell to the seven children and their spouses, especially Selma and Kate, who had to organize the family gatherings.
Kate was the second woman Elder of the First Christian Church in Glasgow; the first had been Bess Howard. Kate taught Sunday school for many years. She was also president of the Garden Club and the Daughters of the American Revolution.
Fred suffered a stroke in 1993 and died of cancer in 1994. He never once complained…. always the brave soldier. Kate had a series of small strokes in 1995 and moved to the Barren County Health Care Center and lived there for almost three years. She died on October 2, 1998.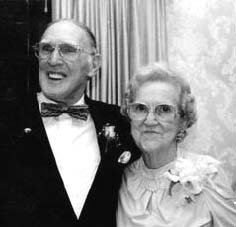 Fred and Kate
A Grateful Tribute
–

KateTrabue Dickinson Ganter 1913-198
8

Gone now
From her house linteled
With the Trabue Great-grandparents' doorway
This only daughter from among six brothers,
This generous giver
Who gardened her home into bloom
With sky-blue cornflowers and children
Tulips and a forever romance
With a military man of infinite projects.

Ended now
Her years of nurturing dozens of cousins
With foods and a home base
For interchange play and learning toward life—
Monopoly and basketball, badminton and croquet
Jarts, sing-alongs, carols and charades
Picnics and parties past number
Helping fuse family into family.

And her legendary learning—
Encompassing the entire high school library,
Encyclopedic grasp of the Great Book,
Turned to being keeper of the Family time trust,
Collector of ancestral facts, artifacts and documents.
Her house, a family museum,
With beds and bureaus, cradles and cabinets
Haunted with stories and stories and stories
Coming from years even before the Revolution
Including blacksmiths and drunks, bankers and bookkeepers
Wholesalers and doctors, pharmacists, farmers, and surveyors . . .
All leading to us now.

Her shadowed self, lingered long
Yet now she takes her place
Ascending that ancestral staircase
From which we hear, as ever before,
Abiding support for our climbing up
To our best selves.

—Charlie Dickinson 11/2/98
Children of Kate and Fred Ganter
Frederick Richardson Ganter, Jr

., b. October 1, 1939;

Lelia Rogers Ganter

, b. April 17, 1941; m # 1. May 21, 1966, Barry Allen Tilton, b. Sept. 10, 1941, son of William Joseph and Helen Marie Moore Tilton, of Lexington, KY., 2 children;
2A. Aaron Mitchell Tilton, b. April 20, 1969 in Lexington, KY; m. May 22, 2004 Molly Burke Parrish, b. Sept. 7, 1973, daughter of Danny Burke and Charlene Holman Lyons Parrish of Elizabethtown, KY.
2B. Kate Marie Tilton, b. September 24, 1970 in Denver, Colorado; m. August 7, 1999 Ryan Hunt Branstetter, of Glasgow, KY, b. July 8,1976 son of Larry and Sandra Hunt Branstetter; child;
2B1. Lelia Trabue Branstetter, b. Oct. 26, 2003; m # 2. April 29, 2000, Riley Dean Handy, b. June 12, 1941, son of Murl and Mary Catherine Dean Handy, of Bowling Green, Ky.
3. LaVece Carr Ganter, b. January 10, 1944, m. December 4, 1965 Charlie Glenmore Hughes, Jr., son of Elizabeth Rose Cecil and Charlie Glenmore Hughes, Sr. of Harrodsburg, KY. 3 children;
3A. Charlie Glenmore (Chip) Hughes, Jr., m. on June 18, 1999, Susan Dawn Spears, b. August 14, 1968, daughter of Eula McIntosh and Willis Spears of Nicholasville, Ky; 1 child
3A1. Grace Camille Hughes, b. March 26, 2002 3B. Edward Ganter Hughes, b. November 7, 1969; 3C. Matthew Ganter Hughes, b. October 16, 1982;
7. Samuel Worley Dickinson b. May 15, 1915, d. Mar 29,1969; m. April 13,1940 Esther Pauline Hauff b. Aug, 13,1913, d. Jan 17,1982; daughter of Anna Wilhhemia Frederica Wilhemine (Hinz) & Christian Hauff from Nashville, TN; 2 children;
Sam and Esther Dickinson (62)
Sam was the next to the last of Lelia and Bartlett Graves' children. Sam lettered in varsity football for five years and said he liked to play without a helmet, and got his nose broken several times. When Sam was 12, he rode his pony, Lady Bird, up the scaffolding of the construction of the Glasgow Liberty Street Elementary School. The fire department had to be called in to get the pony off of the roof, three stories up. Sam finished his last semester of high school in Fort Worth, Texas, where his mother sent him to live with Benora "Aunt Benny" Terrell, sister to his grandmother, Kate Trabue Rogers.

Sam attended college at Western and then the University of Kentucky, each for about three or four weeks. During his brief stay at

Kentucky he chartered an airplane for himself and a party of friends and flew to Cincinnati for the weekend. His mother and older brothers decided then that he was throwing away his inheritance and decided for him that he was going to build a house for himself before it was all gone. The house was built next to the home place and Lelia later willed it to Esther (She still didn't trust Sam to own it.)

Returning to Glasgow Sam worked at Newberry's and later during the depression, worked with Will Goodman selling Fleetwood coffee in Glasgow and all over eastern Kentucky.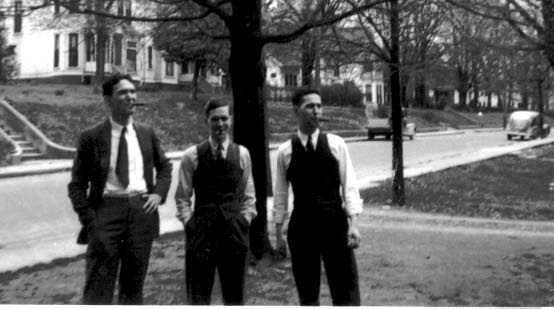 William, Jim Rogers, and Sam
Sam married Esther Pauline Hauff. Esther was born at her father's farm near Nashville, the fourth of six children. Her father, Christian, was a farmer and harness maker. Her mother, Anna, was a seamstress. Both had been born in Germany and brought to America as children by their parents during the period of the great migration during the 1880's. Christian and Annas's fathers were both

railroad workers and Anna's

father, like so many others, was killed in a train coupling accident when

he was 38 years old.
Both Sam and Esther's fathers died in 1918 at the age of 41, and both their strong willed and independent mothers raised large families on their own. Lelia, however, did have the slight advantage of $100,000 in life insurance proceeds, a considerable sum for 1918. (Lelia immediately gave away 10%, her tithe, to finance an orphanage in India before WWII in honor of Bartlett Graves.)
Esther graduated from the St.Thomas School of Nursing and in 15 years never missed a day of school, an amazing record at anytime. She came to Glasgow to work in the newly built T.J.Sampson Hospital and worked as a nurse in Glasgow for over forty years.
One of Esther's early patients was Sam. He had wrecked his

brother Brents' brand new Model T (or A?), which he had borrowed to go to Cave City. He hit a hay wagon and his head went through the roof. He was in a coma for six weeks.

Esther was his nurse. Sam of course, claimed he had been pronounced D.O.A at the emergency room at T.J. Sampson and was only saved from being shipped to the funeral home by the intervention of his brother, John, who said he was still alive…. Sam knew how to make a story interesting.

Sam and Esther first lived at the home place at 321 W. Washington Street. After returning from Nashville in late 1942, they occupied the lower apartment at 317 W. Washington until Rogers and Inez bought a house in St. Mary's Court. They lived at 315 for the rest of their lives.

They did not own an

automobile until 1954, and both walked to work, Sam to a surveying office on the Square and Esther across the street to the Howard Clinic, where she went to work when it was built in 1948.
When WWII broke out Sam and Esther moved to Nashville, where Sam worked at Vultee, an airplane factory. The family lived in Nashville for only about six months and then returned to Glasgow. Benny was born while the family was living in Nashville.
Sam was the only one of six brothers who did not serve in the military during WWII, a fact that caused him some emotional distress in later years.
He went to the recruiting station the first time with his older brother Brents, who was nearly forty years old. They accepted Brents, and rejected Sam because he was blind in one eye and deaf in one ear. He tried to enlist again later by memorizing the eye chart before he went in, but it didn't work. Then again, while he was in Nashville, he went to a bar after work and had a few drinks.
When he left the bar to go home, a platoon of Marine recruits came marching by headed for the train station. Sam fell in and marched with them to the train and got on. He got all the way to the Marine training station base in Memphis before he was discovered and sent home.
After the war Sam began working various surveying jobs (his great, great grandfather, Edmund Rogers and his Uncle John Lewis Rogers had both been surveyors). He worked for both Randolph Wilson, Sr, and Paul "Buddy" Pride, doing mostly road surveys.
In 1953 he spent a year working on an oil platform in the Gulf of Mexico. The pay was tremendous, but the conditions and being so far from home, were more than he could stand. During the last few years of his life, he worked for the Department of Highways as Assistant Resident Engineer in Bowling Green.
Sam once jumped from his porch and ran across the street to help an old black lady carry her groceries. The lady was Aunt "Lizzie" Mitchell who was walking from town to her home on the far end of Grandview Avenue. (Four blocks away)
Sam was working for the Highway Department in Louisville during the construction of I-64. He was killed in a car/train collision on March 29, 1969, at age 53.
Esther was head surgical nurse for three surgeons, office nurse for Dr. Wm. Bryant, and was in charge of ordering supplies for the Howard Clinic until she quit in 1968 over a pay dispute of not being paid enough for doing three jobs.
She went to work for the state at the old T.B. Hospital and made more money there the first year she worked than she had her twentieth year at the Howard Clinic, plus she had fringe benefits.
She retired in 1975 and died on January 17, 1982 after a long battle with Parkinson's disease. The joys of her life, excluding nursing, were the Missionary Society and later the Business and Professional Women's Club.
Children of Esther and Samuel Worley Dickinson
1. Robert Worley Dickinson, b. January 29, 1941; m. on August 8, 1964 Mary Lou Stapleton, b. February 17, 1942, daughter of Mary (Verra) and Lawrence E. Stapleton from Bronx, NY: 3 Children;
1A. Robert Worley Dickinson, Jr. b. May 15, 1965 in Lexington, KY m. on February 12, 1994, Leslie Ann McPeek, b. May 24, 1965, Lexington, KY, daughter of Ann and Ron McPeek from Lexington, Kentucky; 2 children;
1A1. Bradley James Dickinson, b. October 2,
1996,Lexington, KY
1A2. Marina Ann Dickinson, b. June 10, 2000,
Rostov-on-Don, Russia

1B. Catherine Rogers Dickinson, b. January 17, 1970 in Lexington, KY
1C. Kristina Lawrence Dickinson, b. December 7, 1975 in Lexington, KY, m. October 8, 2005, Hiram Dudley Ives, III September 14, 1977.
2. Benjamin (Benny) Lewis Dickinson
b. July 25, 1942 in Nashville and delivered by the same doctor, Dr. Cunningham that had delivered his mother; m. on August 25, 1964, Sondra Jo Bowman, b. January 17, 1944, daughter of Janice Margaretta McWherter and Dr. Clarence Garland Bowman of Glasgow, KY. 3 children;
2A. Catherine 'Dawn' Dickinson, b. Nov 18,1967; m. on August 26, 1995, Mike Furlong Reynolds, b. Aug 9, 1960, son of Dr. Wm. C. and Mary Nichols Reynolds from Lexington, KY; 3 children
2A1. Andrew Trulon Reynolds, b. April 6, 1998 2A2. MaryMichael Bowman Reynolds,
b. August 27, 2002;
2A3. Benjamim William Reynolds
b. February 25, 2005;
65
2B. Samuel Day Dickinson, b. September 12, 1969; m. on November 6, 1999, Amy 'Allison' Hogue b. February 26, 1972 daughter of Gary W. Hogue and Donna Handy Smith both of Horse Cave, KY; 1 child 2B1. Eleanor (Ella) Day Dickinson, b. May 28, 2002;
2C. Anna Margaret Dickinson, b. April 18, 1979
8. Lewis Dickinson, MD b. June 12, 1917; d. January 28, 2005; m. Dec 29,1942, Selma Goodman, b. Sept 30,1919, daughter of Lucy Taylor and Will Howard Goodman, d. Mar 4, 1994; 4 children;
Lewis and Selma Dickinson (62)
When Lelia Dickinson was expecting her last child, she had decided on the name of Olivia Lewis since she hoped to finally have another girl. When a son was born, the name Olivia was dropped and he was named Lewis. As the baby of the family, he was loved by all but hardly knew his father, Bartlett Graves Dickinson, who died when Lewis was only one year old.

Lewis was the last of the children and the last to have the job of milking the cow. He was also active in the Boy Scouts.

Lewis finally received his long overdue Eagle Scout award as an adult, with the help of Jimmy Simmons. Lewis played football on the high school team and attended

Transylvania College for three years, sending his dirty laundry home in

the mail to have it returned clean by his mother. As a freshman, Lewis received a certificate for making the highest

grade among chemistry majors, although he was only a freshman. After three years of college, Lewis entered the University of

Louisville Medical School. He received his degree from Transylvania by using credits he earned in medical school. The summer after his third year of medical school he worked at Hazard, KY with coal miners, and delivered his first baby. The parents of the baby said Lewis was the best doctor they ever had, and named their baby "Lewis."

He received his medical degree in 1942, and at Thanksgiving that year when he was 25, he finally gave a ring to Selma Goodman, whom he had been dating for about nine years. They were married on December 29, 1942 at the First Christian Church.

Lewis said he never really asked Selma to marry him.

He just gave her a ring and she assumed he wanted to marry her! Lewis was a man of few words in his younger days.

Selma, the daughter of Lucy Taylor and Will Howard Goodman, was the older of their two children.

Selma skipped a grade in elementary school simply because the principal moved several students up when a class was overcrowded, and so she graduated from Glasgow High School at age 16.

She attended Bowling Green School of Business for a year before going to work for the Kentucky Utilities in Glasgow. Selma turned down three proposals of marriage before Lewis asked her!
Selma and Lewis moved to Louisville where Lewis did an internship at old Louisville General Hospital. He signed up for the Army Reserves the week after Pearl Harbor, so he wouldn't be drafted before he finished his internship.
After his internship, he reported for active duty with the U. S. Army. Eventually assigned to the 10th Mountain Division, he trained with the ski troops of the 10th Mountain at Camp Hale, Colorado. In the fall of 1944 the Division was deployed to Italy and saw fierce action against the German army. Captain Dickinson was awarded the Bronze Star for courage under fire.
Following the war he completed specialty work in diabetes and internal medicine before returning to Glasgow where he established a medical practice with his brother, John, who was a surgeon. For many years, Lewis was Glasgow's only specialist in internal medicine. His son, Dr. L. G. Dickinson, later joined Dr. Lewis in practice. He was a Fellow in the American College of Physicians as well as a member of the Society of Internal Medicine. He was a member and past president of the Kentucky Diabetes Association. He served as a member of the Area Health Planning Council. While he practiced internal medicine, he devoted significant study to diabetes, especially working with diabetic children.
Lewis served as board member for the Kentucky Heart Association. In July 1969, he was elected chairman of the Mammoth Cave Mental Retardation Regional Board and was instrumental in gaining the Mental Health Center in Glasgow. He served for 15 years as chairman of the Utilization Review Committee at the T. J. Sampson Community Hospital.
He was deacon, elder and trustee at First Christian Church, Glasgow, Kentucky, and with wife Selma acted as sponsors of the Chi Rho youth group. He was an active supporter of Boy Scouts of America, and attained Eagle rank. He had a long association with Rotary Scout Camp, including helping to build some of the original cabins. He encouraged the next generation to participate in scouting."
While the family lived in Louisville, they lived in a housing project near the hospital where Lewis worked.
In 1949, Lewis started practicing medicine in Glasgow in partnership with his brother, John, in an office on the Public Square. In 1950 they bought the historic building located at 315 S. Green Street and moved their offices there. The family moved into the Dickinson home with Lewis' mother, Lelia, since the house was to be his. Lelia had her own bedroom, bath, and kitchen on the ground floor, and Lewis' family had the rest of the house.
Selma was expected to maintain Lelia's custom of having the main meal of the day at noon, just as the family had always done when Lelia was feeding her brood of ten.
Selma also took her mother-in-law at her word when Mother Dickinson told her to make the house her house, but Selma was able to manage both.
Lelia doted on the baby, John Day, and all the children spent many happy moments with their Grandmother Dickinson reading, or listening to the Lone Ranger and other programs on her radio.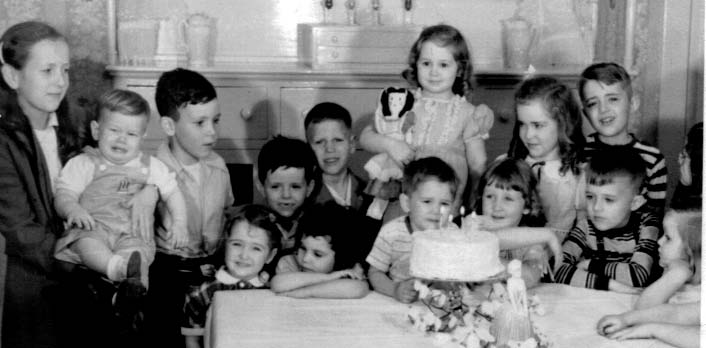 Jeanne's Birthday Party with the Cousins
Lelia Rogers Dickinson died in December of 1951 at home. During her lifetime Lelia Dickinson had admonished her family not to name any child after Benjamin Temple Dickinson, the first Dickinson in Barren County. When Benjamin Temple's wife, Betsy Harris, died he reportedly turned to heavy drinking, and Grandma cited this as reason to be staunchly against alcohol consumption. However, when Selma and Lewis' last child was born, they decided to name him William Temple and call him Temple.
One of the highlights of the year in the Dickinson household was the tradition of the annual Thanksgiving dinner begun by Lelia Dickinson. Putting in leaves expanded the big oak table, and this was the "adults" table. Selma made another long table for the children by putting together two drop-leaf tables. Assorted card tables were added as the extended family grew to include 22 in the next generation.
Chairs were borrowed from Hatcher and Sadler Funeral Home, and Selma borrowed china, silverware, and glassware from others in the family. The house was a flurry of activity even the day before as tables were set and dressing made. Selma cooked one or more turkeys and made dressing. At noon on Thanksgiving everyone began arriving, each family bringing their traditional part of the dinner.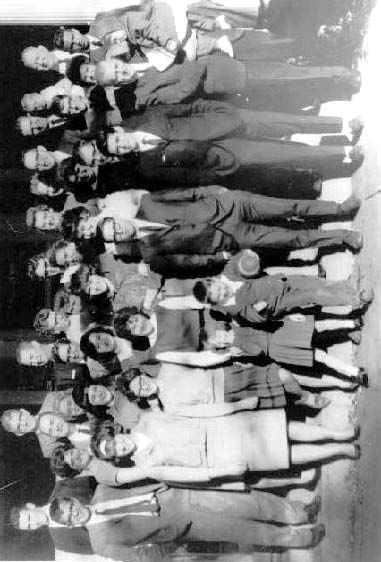 Thanksgiving 1964
71

Thanksgiving 1966 Thanksgiving 1994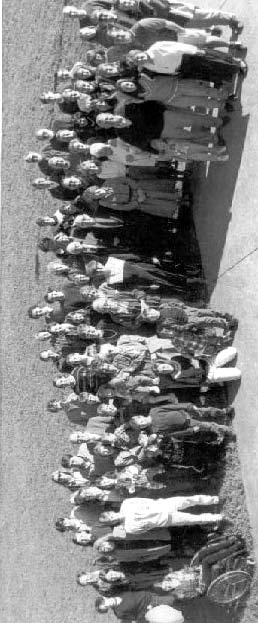 The menu was always turkey, individual dressing balls, gravy, mashed potatoes, lima beans, individual molded salads with shredded apples, relish trays, whole cranberry sauce, homemade rolls, and Dickinson pumpkin pie with whipped cream. Cousins Paul and Margaret Holman added scalloped oysters.

Lewis had been very active at First Christian Church as a deacon, elder and trustee. As a layman he gave a sermon advocating the acceptance of whatever form of baptism a person had received when that person, formally a member of another denomination, joined the church. This had been an issue confronting the congregation as new members joined who had been baptized by sprinkling as infants or children. At the time, a new member was required to be re-baptized by immersion before joining the church. The congregation soon accepted the policy that Lewis and others advocated.
Selma, too, was active in the church. She participated in missionary circles and served as president of the Christian Women's Fellowship. She served as a deacon and on committees, and cooked for countless family night suppers, women's luncheons and church bake sales.
She and Lewis worked with the youth groups, and following Bess Howard and Kate Ganter, Selma became the third woman elder in the congregation. Selma said that Benny Dickinson was instrumental in her decision to accept the nomination as elder.
The community benefited from Selma's organizational skills and advocacy. She chaired charity fund drives and helped start the first medical auxiliary. She worked tirelessly to help establish the Museum of the Barrens.
One year she was named Woman of the Year by the Glasgow Business and Professional Women's Club, an honor that seemed to embarrass her because she thought she had done no more than others.
One of Selma's gifts was her genuine interest in and love for people. She was a friend of everyone she knew, from the elderly to the children and seemed to have a special relationship with each one. She expected the best from everyone and was always kind, compassionate, and diplomatic.
Her reputation as a hostess, along with Lewis as host, was boundless. They hosted family Thanksgiving dinners, picnics, dinner parties, Doctors' Day Dinners, weddings and wedding receptions, open houses for many newly married or soon to be married couples, birthday parties, and funeral meals. As resident owners of the Dickinson home, they enjoyed having the space to entertain and bring joy to their family and friends.
In February of 1985 Lewis collapsed at a medical meeting in Bowling Green with a cerebral hemorrhage from an aneurysm and was flown to Louisville. After a few days he lapsed into a coma.
The family and town poured out support to Selma. Lewis awoke from the coma after more than a week and made a slow recovery. He was eventually able to return to the practice of medicine, but was a somewhat different person. Previously he was often considered reticent. After his illness, he became quite talkative and a real storyteller.
In the summer of 1993 Selma had surgery for cancer followed by radiation therapy. Many family members and friends helped to drive her to Bowling Green for her therapy sessions. In her typical style, when the therapy was over she planned a dinner party to thank the radiologist and to provide an opportunity for him to meet colleagues in Glasgow.
In January of 1994 the cancer was found to have metastasized. Selma died on Friday, March 4, 1994. The memorial service was held at the church. Afterwards the family gathered at her home to share a meal.
Lewis continued to practice medicine and live at home with the help of his family for many years. Later he moved to the NHC Healthcare of Glasgow where he resided until his death on January 28, 2005.
The Children of Selma and Lewis Dickinson
1. Jeanne Dickinson, b. April 13, 1944 in Salida, CO; m. on June 11, 1966 (First Christian Church, Glasgow, KY) John Jones White, b. January 23, 1944, Oak Ridge, TN, son of Mary Jane Maxey and Emery H. White of Glasgow, KY. 2 children;
1A. Lucy Goodman White, b. May 28, 1968 in Glasgow, KY; m. on August 16, 1997 (Hudson Presbyterian Church, Hudson, OH) Jared Matthew Carlson, b. May 7, 1969, son of John (Jac)Carlson, formerly of Honolulu, HI, now lives in Tucson, AZ and "Jody" (Melinda)Moore of Kaneohe, HI ; 2 children;
1A1. Benjamin John Carlson b. June 27, 2000 Alexandria, VA 1A2. Samuel Graves Carlson b. April 15, 2002 Alexandria, VA
1B. Paul Bartlett White, b. June 6, 1973 in Akron, OH; m. on August 17, 1996 (Kansas City, MO) Heather Kristine Brosz, b. June 7, 1970, daughter of Rosalie Brosz and Herbert Brosz both of Aberdeen, SD; 2 children;
1B1. Nora Lucy White, b. May 14, 2002 Raleigh, NC 1B2. Auden Emery White, b. March 31, 2004 in Raleigh, NC
2. Lewis Goodman Dickinson, b. August 19, 1945 in Glasgow, KY; m. December 20, 1964 Sherry Jo Depp, b. September 6, 1945, daughter of Joe and Marie Depp; 1 child:
2A. Jefferson Lewis Dickinson, b. September 20, 1971, m.
August 2003 Amanda Wilson; 2 children; 2A1. Joely Elaine Dickinson, b. January 31, 2004; 2A2. Abigail Lewis Dickinson b. March 1, 2005;
3. John Day "Jake" Dickinson, b. September 4, 1948 in Louisville, KY; m. September 30, 1967 Patricia Ann Martin, b. December 2, 1948, daughter of Katherine and Louis Martin;
3A. Kathy Dickinson, b. October 2, 1971 in Bowling Green, KY; m. #1 on July 27, 1991 Ricky Turner, b. April 9, 1967, son of Sue and Robert Turner of Tompkinsville, KY; 2 children; 3A1. Kelsey Brents Turner, b. September 17, 1993 in Glasgow, KY 3A2. Jacob Richard Turner, b. January 15, 1997 in Glasgow, KY;
m. #2 on May 13, 2000, Anthony Glass, b. Oct 23, 1968, son of Linda Glass of Tompkinsville, KY and Larry Glass of Campbellsville, KY; 1 child; 3A3. Gabriel Anthony Glass, b. June 14, 2001;
3B. John Martin Dickinson, b. December 27, 1975, m. on June 23, 2001, Elodie Tewksbury, b. August 12, 1975, daughter of Tamo Tewkbury of Berea, KY and Lloyd Tewksbury of Metcalf County, KY
4. William Temple Dickinson b. March 13, 1956 in Glasgow, KY, m. Jan Marie Wussow, on October 7, 1995 daughter of John Milton Wussow, of Milwaukee, and Margaret Toussant Wussow, of Chicago, b. August 22, 1963.
4A. Benjamin Temple Dickinson,
b. July 8, 2003;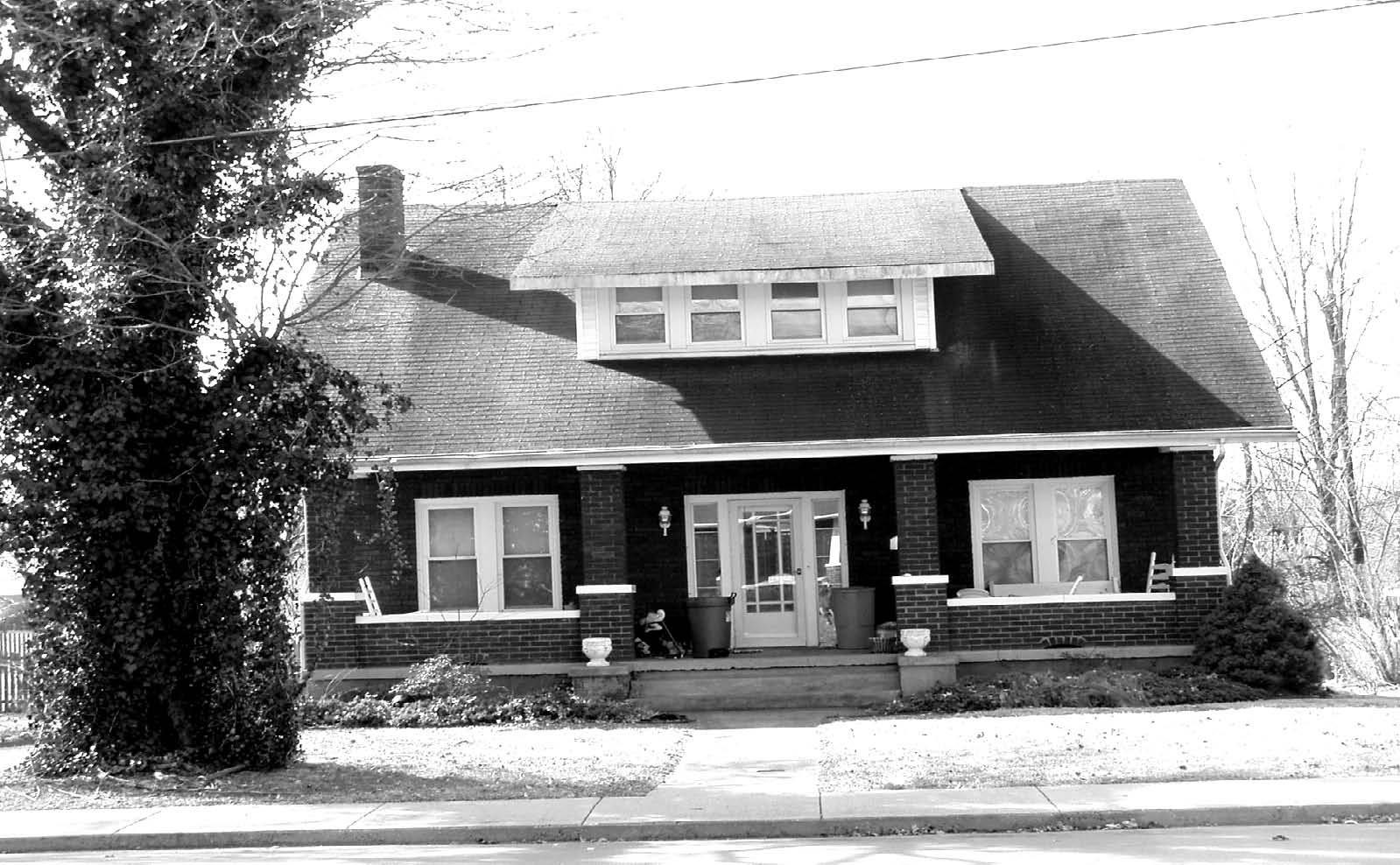 John and Mildred Dickinson's family home at 501 Leslie Ave, Glasgow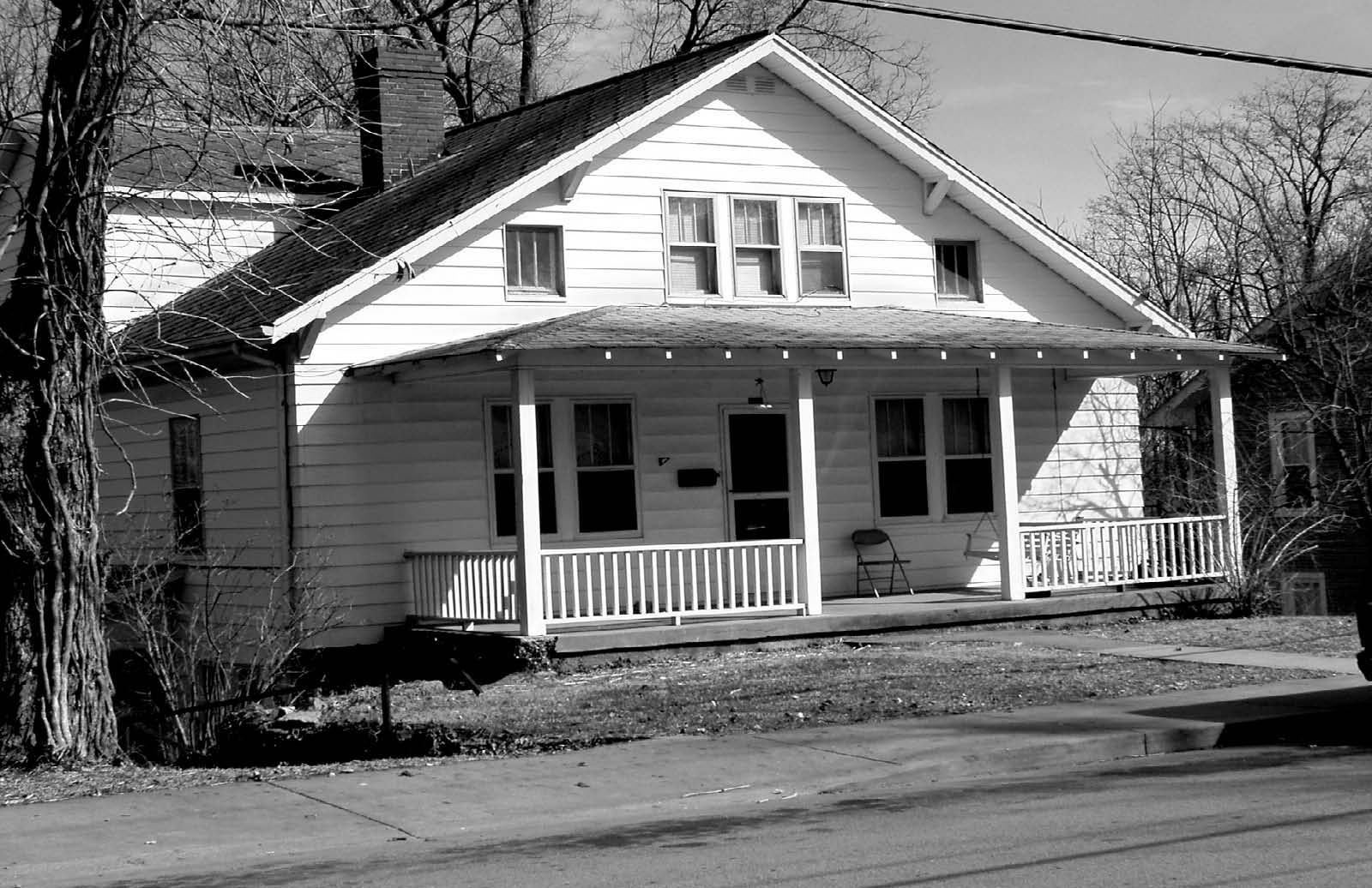 The House that Sam's Money Built.
Home of Brents & Gwendolyn, John & Mildred, Inez and Rogers, and Esther and Sam Dickinson Family 315 West Washington Street, Glasgow, KY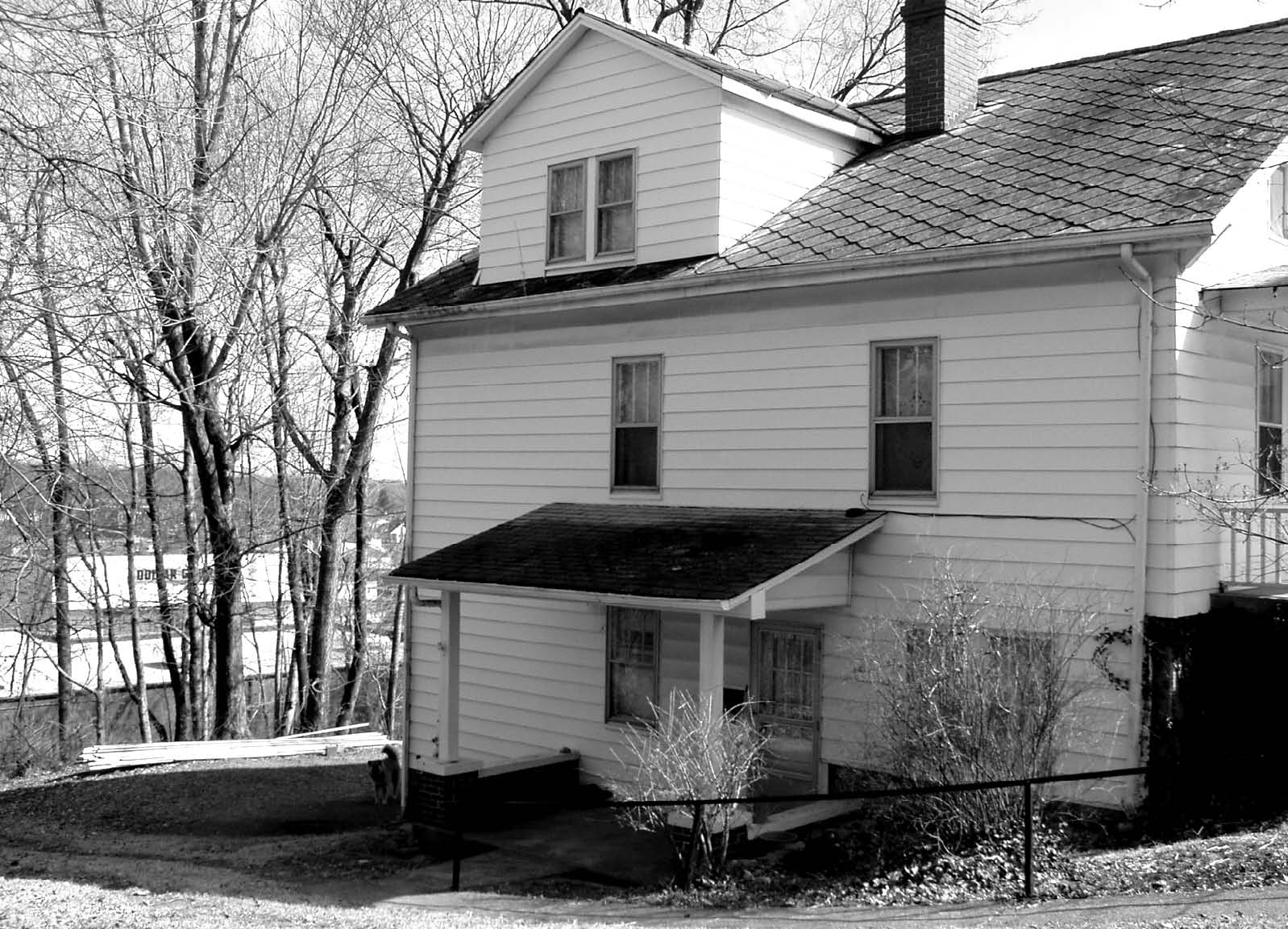 317 West Washington Street, Glasgow, KY Early Home of Esther and Sam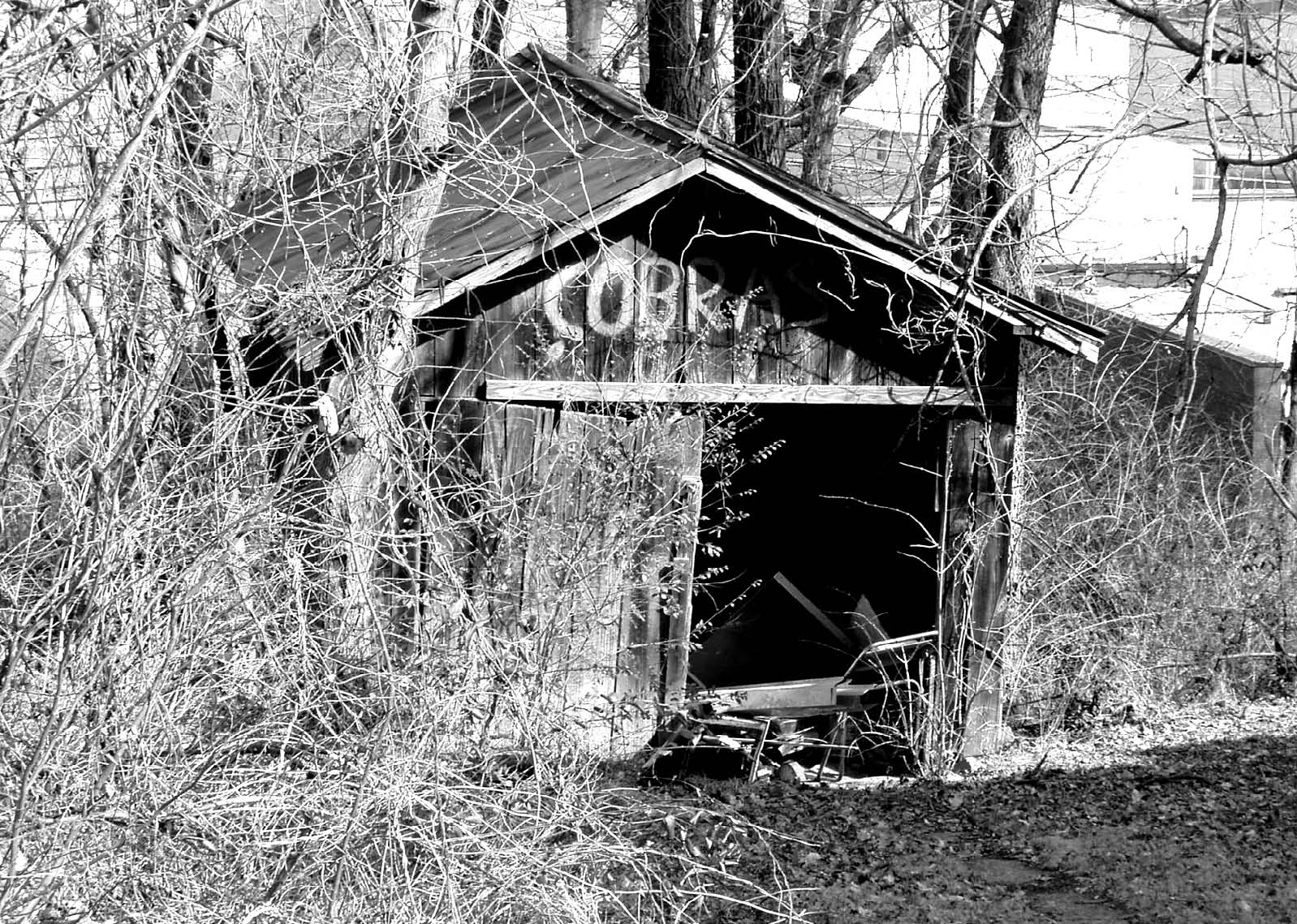 Cobra Club House, Gymnasium, Recreational and Cultural Center 317¼ West Washington Street. Originally a garage in the 1930's, however, Brents was the only brother who ever parked a car there. Kate & Fred Ganter's Home 709 Leslie Ave Glasgow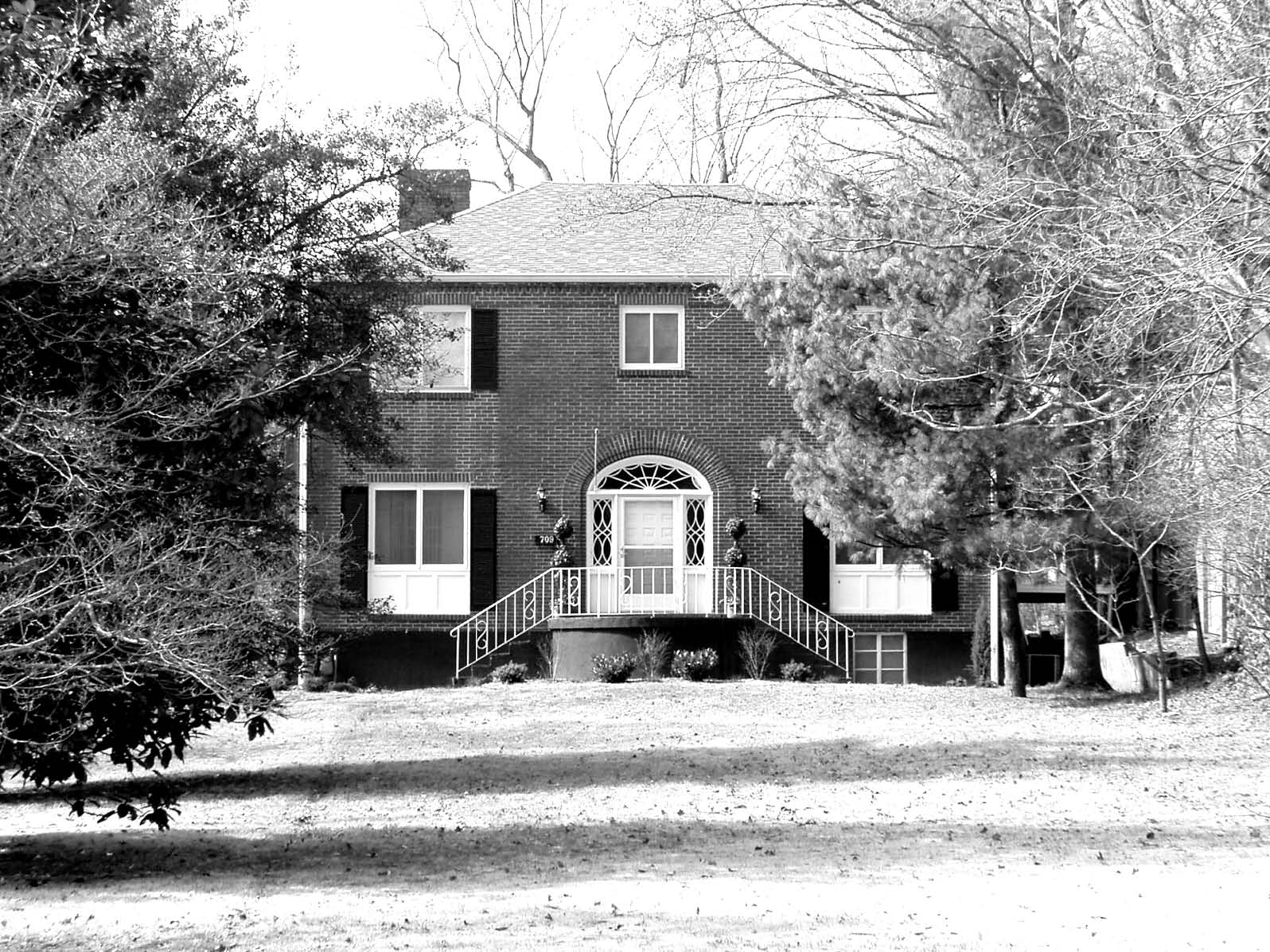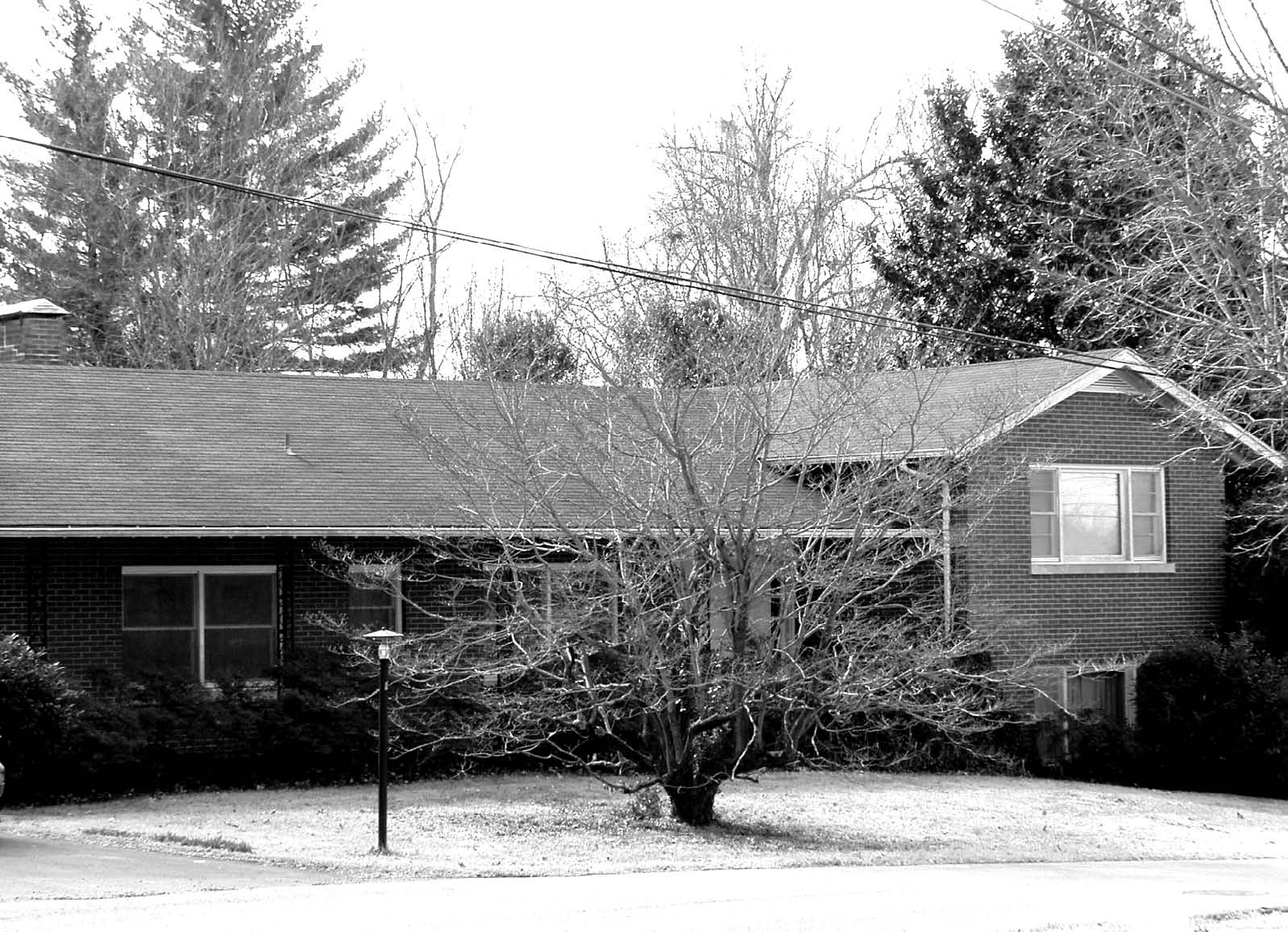 John and Mildred's Home in Maplewood Place Glasgow Inez and Rogers Dickinson Family Home 115 St Mary's Court ,Glasgow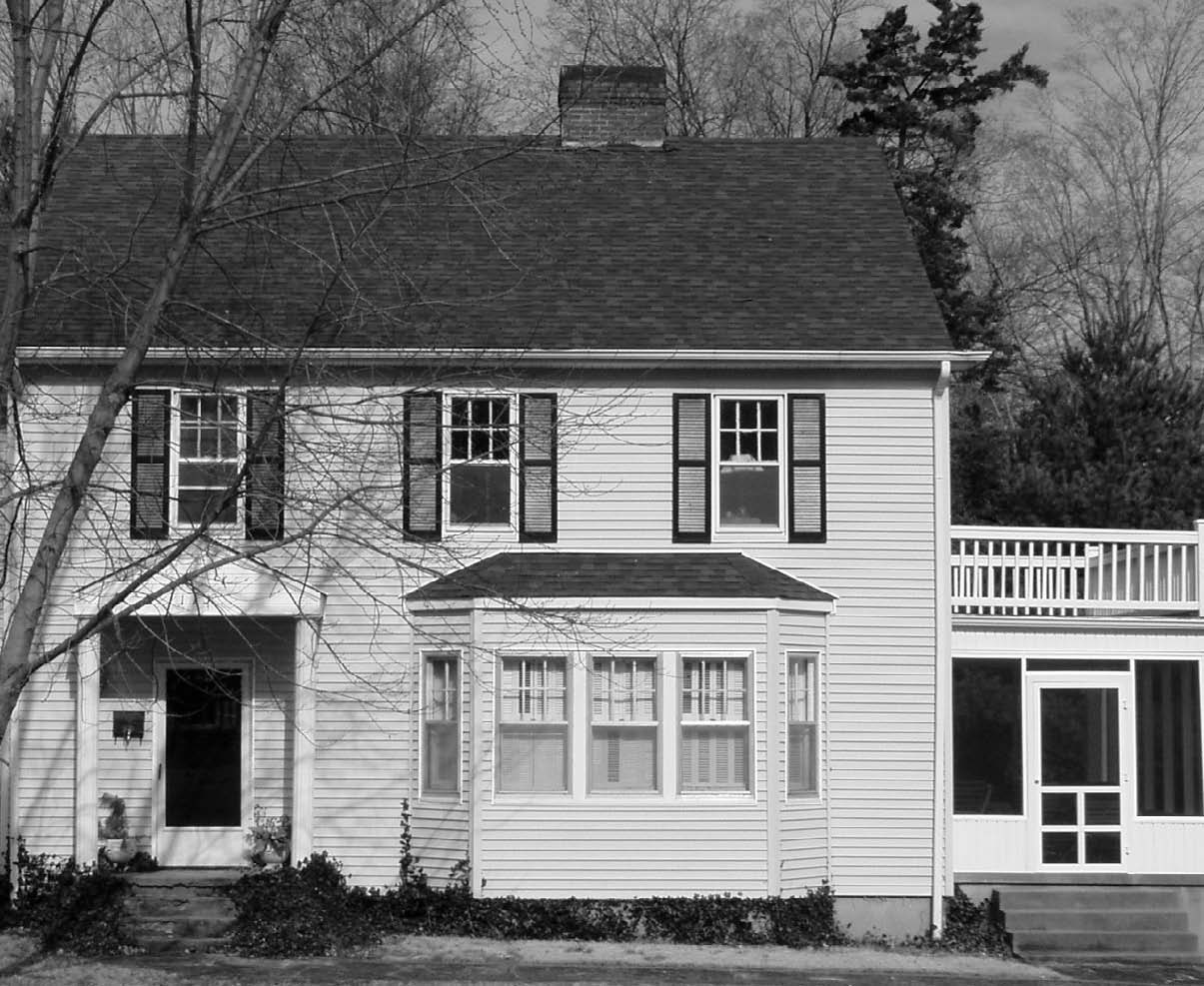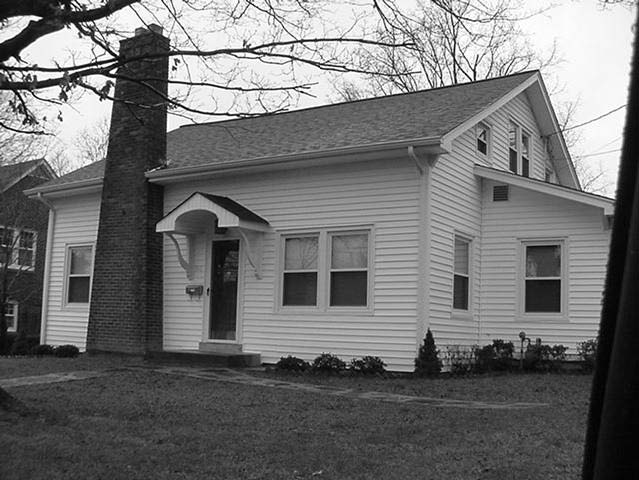 Wm. & LaVece Dickinson Family Home, 310 Jefferson Street, Glasgow Brents and Gwendolyn Dickinson's Home 205 W. Brown Street Glasgow, KY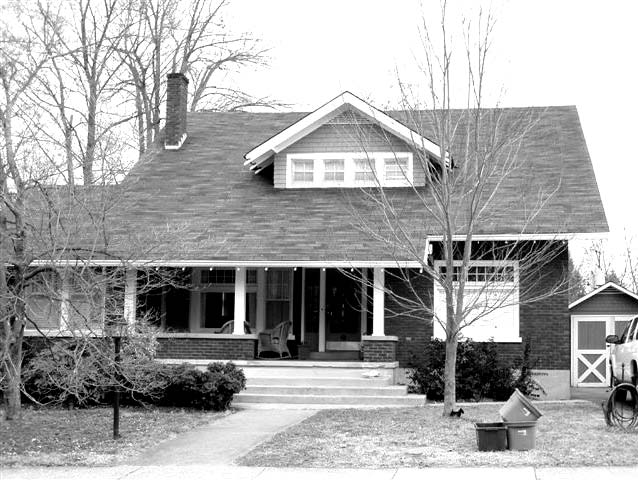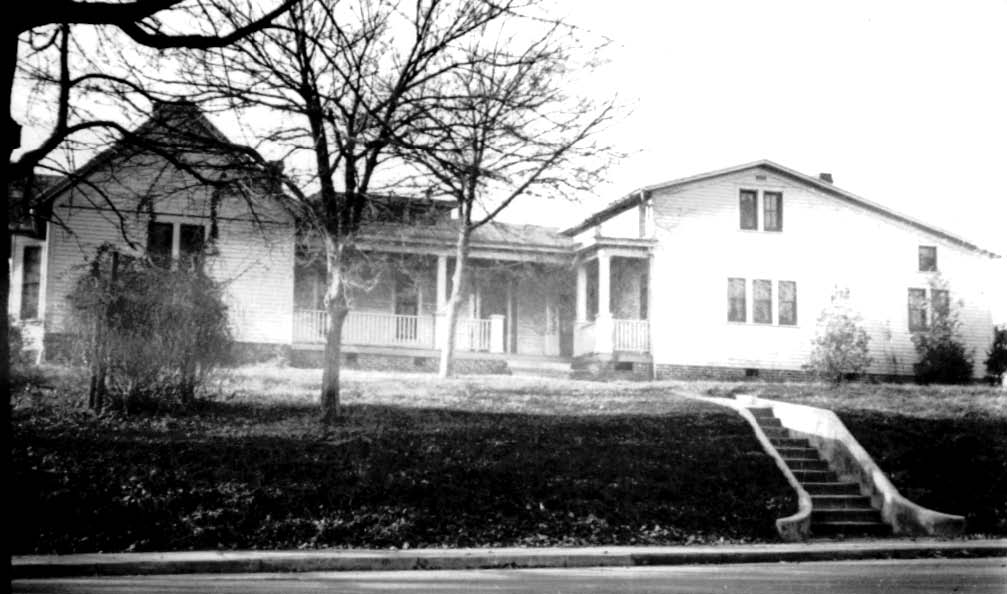 The Grey House / Kilgore House home of Kate and Fred Ganter
Across the street from 321 Washington Street

82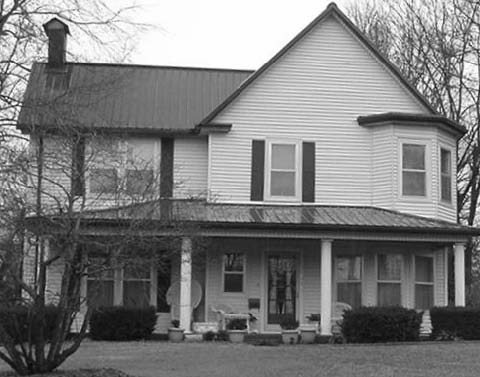 Uncle Day Dickinson's House Cleveland Avenue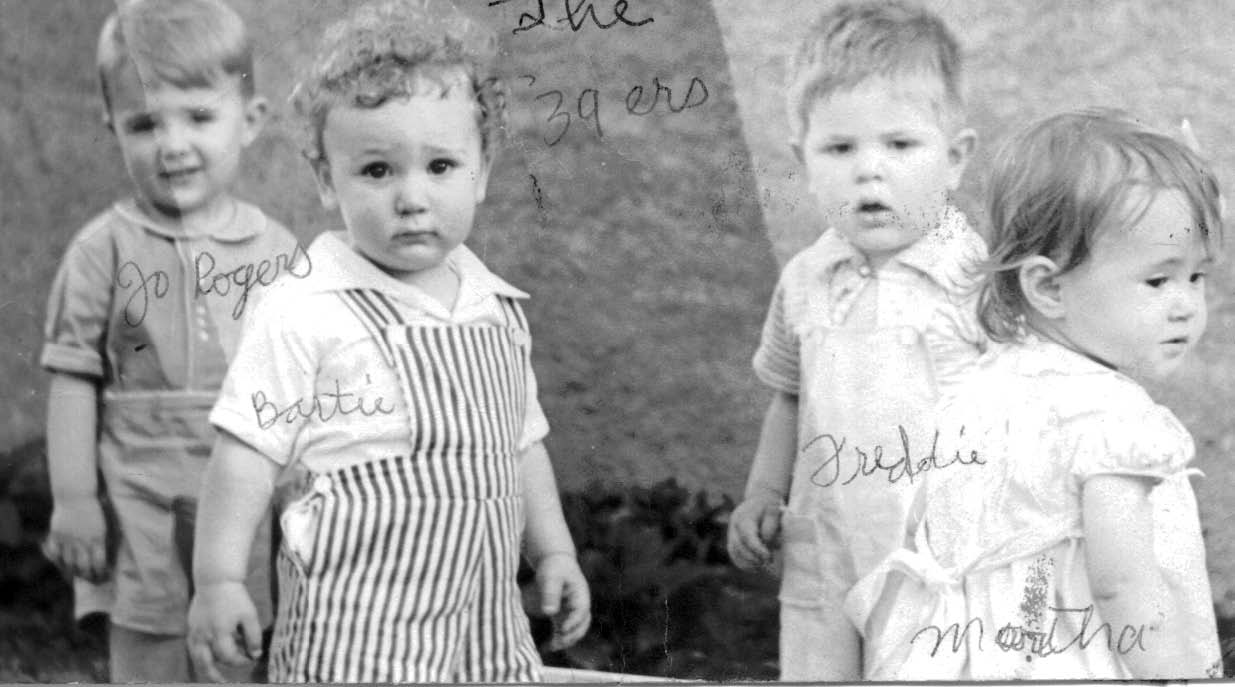 "The '39ers" … Joe Rogers, Barty, Freddie, Martha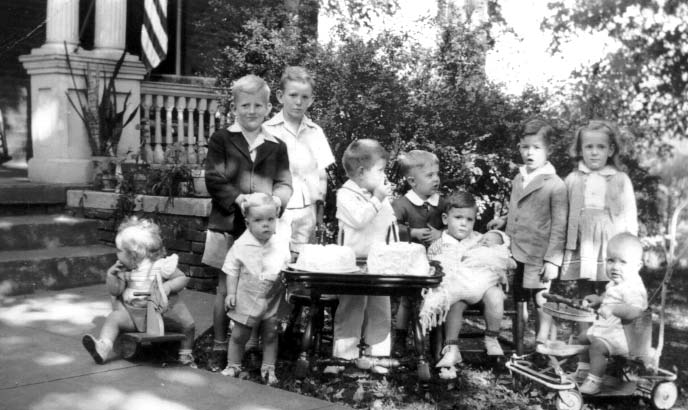 Lelia's 3rd Birthday… Lelia, Henry, Brents, Fred, Joe, Barty with Betsy,
George Ganter, Lelia Ann and Mary Lynn 1944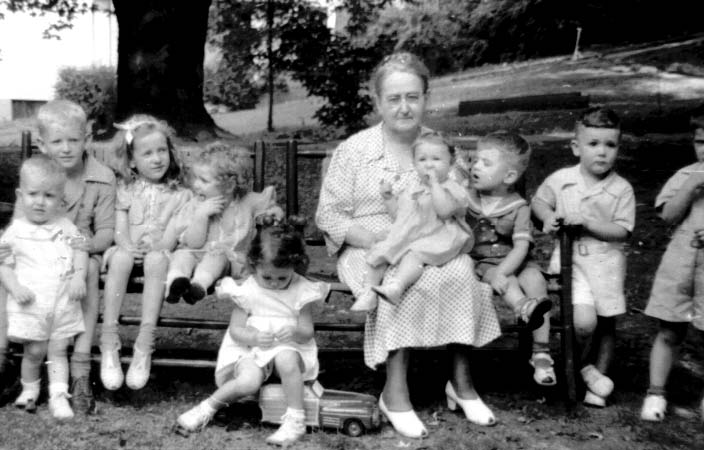 Henry,Charlie,Lelia Ann, Lelia Rogers,Martha,Grandmama, Mary Lynn,
Joe Rogers, Barty and Fred in side yard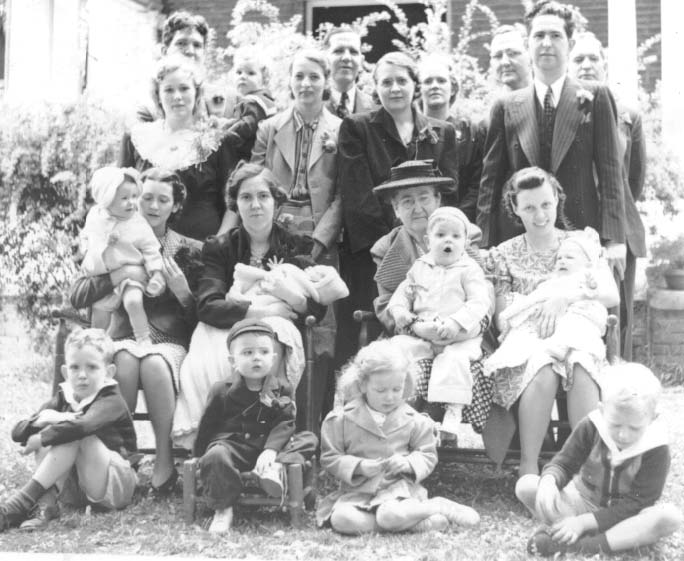 Mother's Day 1941 -- Wm, LaVece, Barty, Rogers, Inez's Sister, Inez,
Gwendolyn, John, Sam, Brents, Mildred & Martha, Kate & Lelia,
Grandmama & Fred, Esther & Robert, Brents III, Joe, Lelia Ann, Henry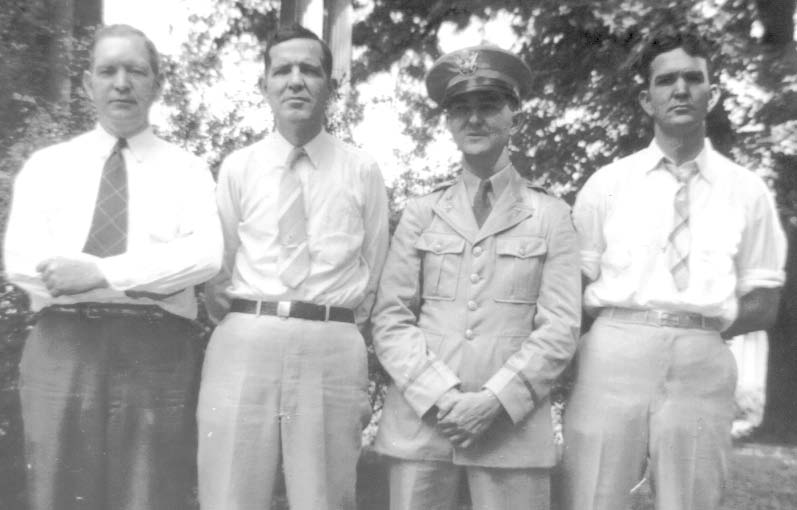 Brents, Rogers, John and William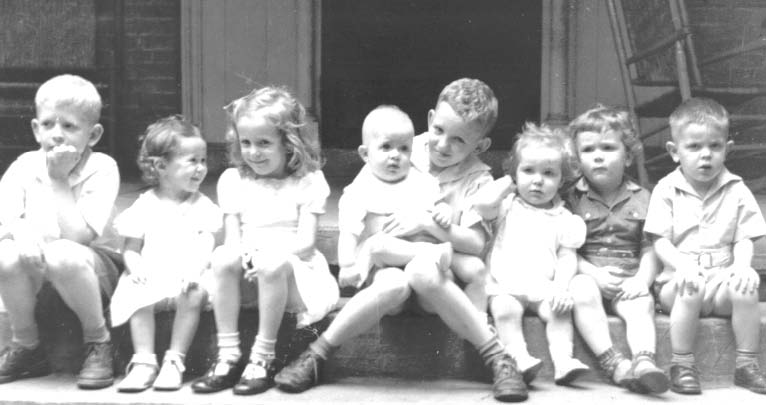 Lelia Rogers' 1st Birthday, April 17,1942, Henry, Martha, Lelia Ann,
Brents and Charlie, Lelia Rogers, Barty and Freddie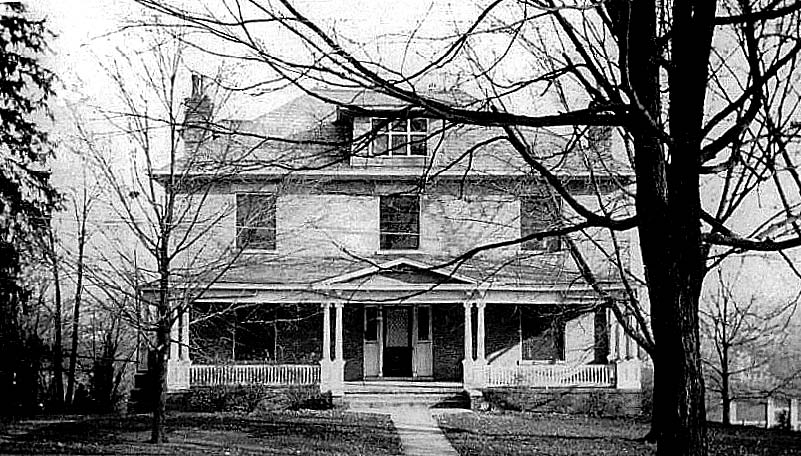 321 West Washington Street
for Lewis and Selma
Atop the ancient full-flowered magnolia
The petulant dawn
Startling the returned wayfarer
From the swirling haunt of sleep.
The mansion stands
Bricked in large dimensions---
Faith and unsentimental Care
To six generations of time.
Resonant grinding of steel skate wheels
On the then immense columned porch
Filled the infinite circles of childhood.
After breakfast with Grandma
The six-year-old,
Sneaking through the cold back pantry
Smelled the sour musk of old flour.
In the wide freedom of the hallway
Loud reckless holiday play
Of a ten-year-old in new shoes—
They failed the single leap
Over all the recumbent girl cousins
Yielding a first inexpressible shame.
(What force lay such compliance?)
Sojourning half a life
He returned lately
To learn through repetition
That the Love
Which laid the third brick
For the third son
Who died so young
Is a cornerstone
Sufficient to defy Death.
The dull reek of aging mortar
In the dim lit subterranean room,
Restores boyish hideaways and wars,
Clandestine wall scaling,
And an insane collage
Of dynamite boxes, a stone horse trough
And Great Grandma Trabue's front door.
Two vast banquet tables
Segregating adult from still-a-child
Celebrate partaken tokens
While generations of uniformed black
--Zora, Mattie, Lizzie—
Look on from a hot kitchen.
Sure and busy Uncles
Slice the several robust turkeys.
The hours still stop in recollection—
A thousand worn yell-bound magazines
Viewed (little wonder
Daddy delighted to see in person
The head-hunting New Caledonian pygmy
--despite a War)
And viewed again
On the sweeping oak stair-landing
Halfway between a small Kentucky town
And the thin air of Everest.
The attic
Now cleaned of its mysteries
--its narrow stairs perpetually guarded
by Grandma's bedroom—
Held in dusty chests
Tantalizing booty of ancestral time travel
But he never saw
Except perhaps enough
Too long for future past.
The eternal; slate roof.
Replaced.
Yet attic largeness beckons.
Beyond the brass-handled front door
Beyond the reminiscing boxwood by them
Past the sidewalk square
With the hitching-post hole
Past the sounds of children
Playing 'May I?'
And 'Animal, mineral, or Vegetable?'
The great silver maple
In the corner of the yard
Reaches its storm-culled branches
High into the warming day.
— Charlie Dickinson